Neck Pain Treatment in Newport Beach, Torrance & San Pedro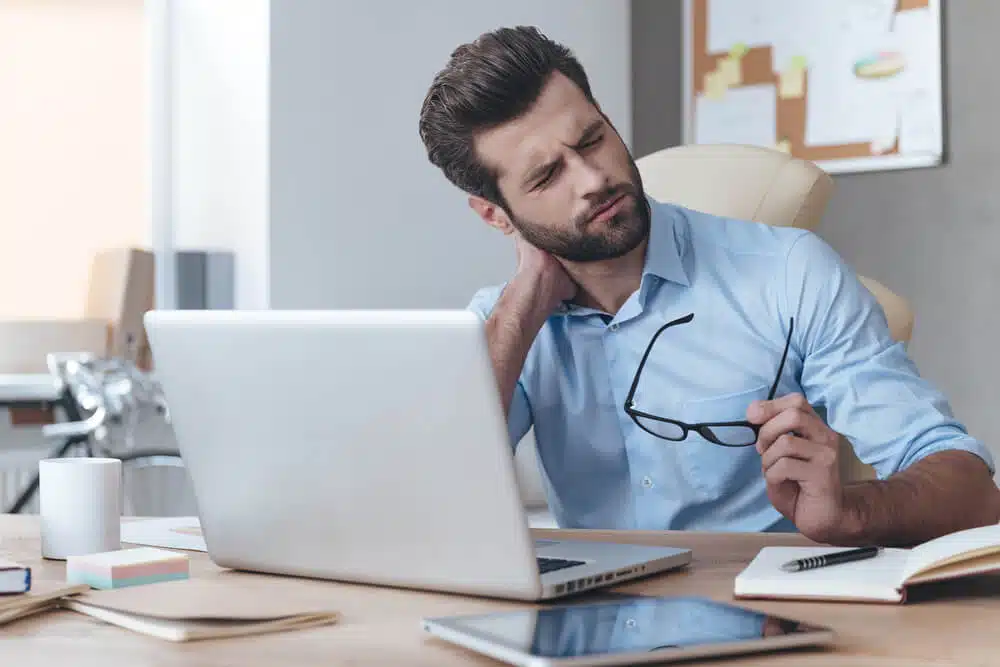 Neck pain often leads to headaches and constant irritation. Your neck is one part of your body that cannot handle much more than what it was designed to do daily – hold up the head. Too much motion, weight, or strain can cause your neck muscles to tighten or sprain, resulting in pain and irritation. As your chiropractor in Newport Beach, Torrance & San Pedro, we provide natural neck pain treatment to help you with any pain problems you might be experiencing.
Common Causes of Neck Pain
The neck is considered one of the weakest points in the body, so there are many reasons it may be irritated. To effectively treat your neck, we need to discover the underlying cause of your pain. Some of the most common problems for neck pain include:
Poor posture
Chronic conditions like arthritis
Awkward movements, which may result in pulled or strained muscles
"Text neck" - looking down at a phone, tablet, or similar device for an extended period
Whiplash
Car accidents, falls and certain sports injuries can cause whiplash. Whiplash occurs when the head is violently thrown forward and back (or vice versa), causing undue strain on the neck muscles. Symptoms of whiplash include a very stiff neck that makes it difficult to even turn your head.
Posture Strain
Most American adults own a cell phone (90%, according to the Pew Research Center) and a laptop. Your neck could be strained by holding the wrong position for too long, which is common when looking down at the cell phone screen to browse, play, or text. The laptop can also cause neck pain when you sit with it resting on your lap, causing your neck to curve and hold your head looking down at the screen.
Emanating Pain
Sometimes, the pain in your neck, arms, or legs is stemming from another place in your body – most often your back. A full evaluation and physical exam will help us determine if the right place for treatment is your back instead of your neck.
Turn to Chiropractic for Neck Pain Relief in Newport Beach, Torrance & San Pedro
You can find the relief you need from our neck pain doctors in Newport Beach and San Pedro. We encourage you not to wait to obtain help. Call (949) 734-4454 for an appointment with Newport Pain & Wellness in Newport Beach, (424) 235-1562 for South Bay Pain & Wellness in Torrance, or (310) 831-0003 for an appointment with San Pedro Pain & Wellness in San Pedro. Each clinic offers a multidisciplinary list of services.
---
What is Text Neck?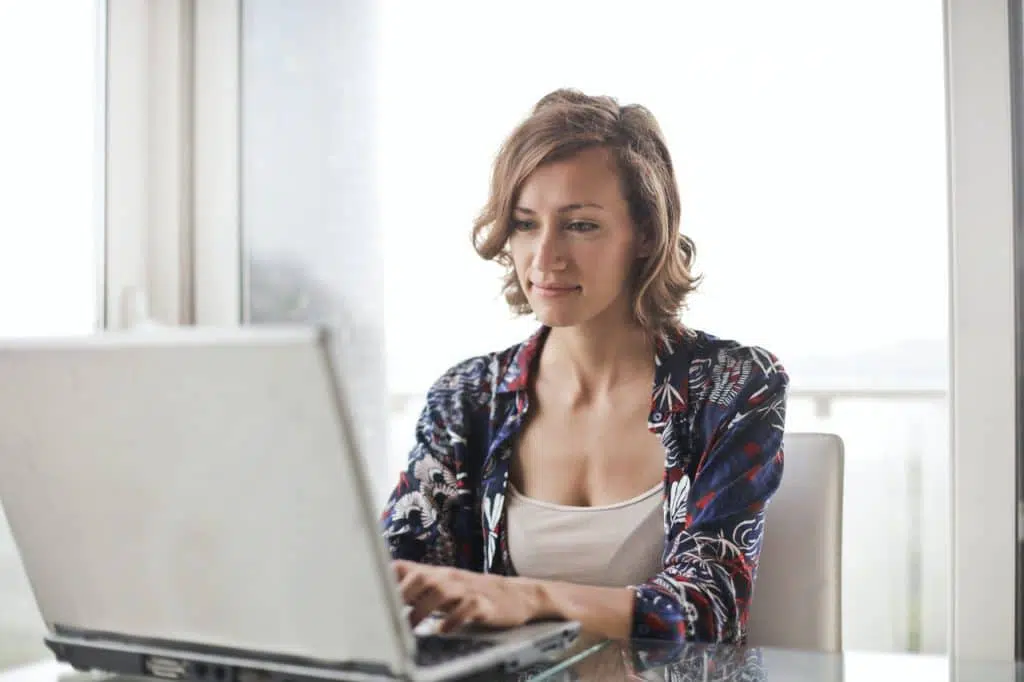 Almost everyone has a smartphone today and most people spend hours on their cell phones for work, school, or personal use every day. When someone spends an extended amount of time looking at their phone, they might develop something called text neck. For those who might not know, text neck develops when someone cranks their neck to look down at their phone continuously. When this happens, the muscles, ligaments, and vertebrae are stretched. This can shift the vertebrae in the neck out of alignment, placing stress on the muscles throughout the back, neck, and scalp. This can lead to significant neck pain. This might also restrict someone's range of motion in their neck.
The Symptoms of Text Neck
If someone has developed a text neck, there are a variety of symptoms that might appear. These include:
The shoulders and neck will start to feel stiff, particularly at the end of the day
When someone tries to move their neck, this pain will start to get worse
This pain will get better when someone looks down because this is what the body has gotten used to
The shoulders may feel weak as well
Individuals with text neck may also notice headaches as the muscles of the scalp are pulled tighter by poor posture
The good news is that there are treatment options available.
Text Neck Pain Treatment and Prevention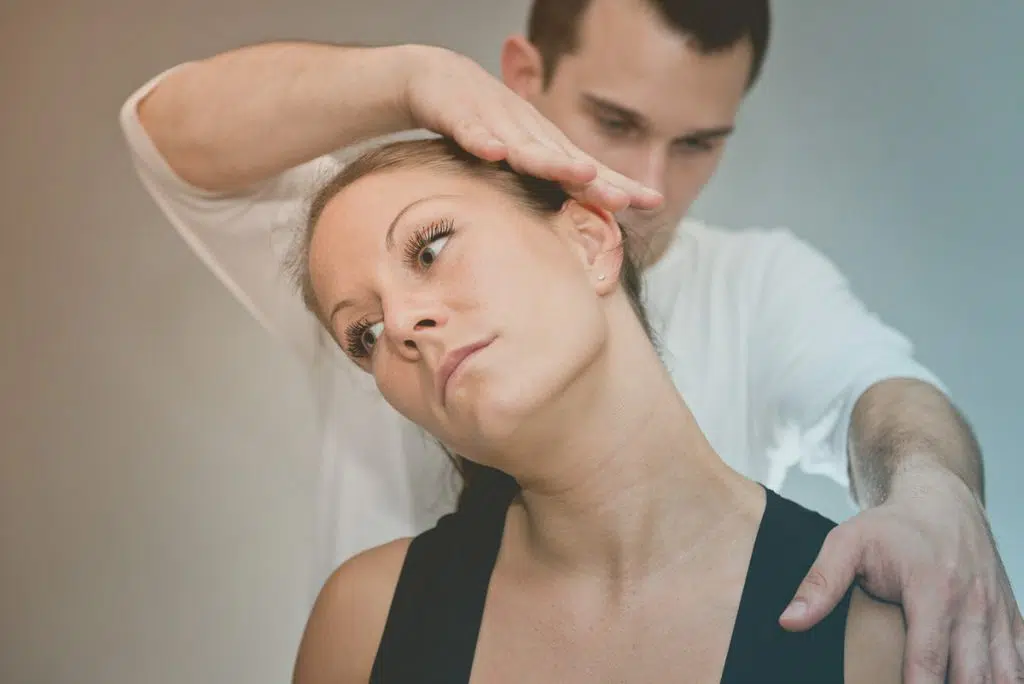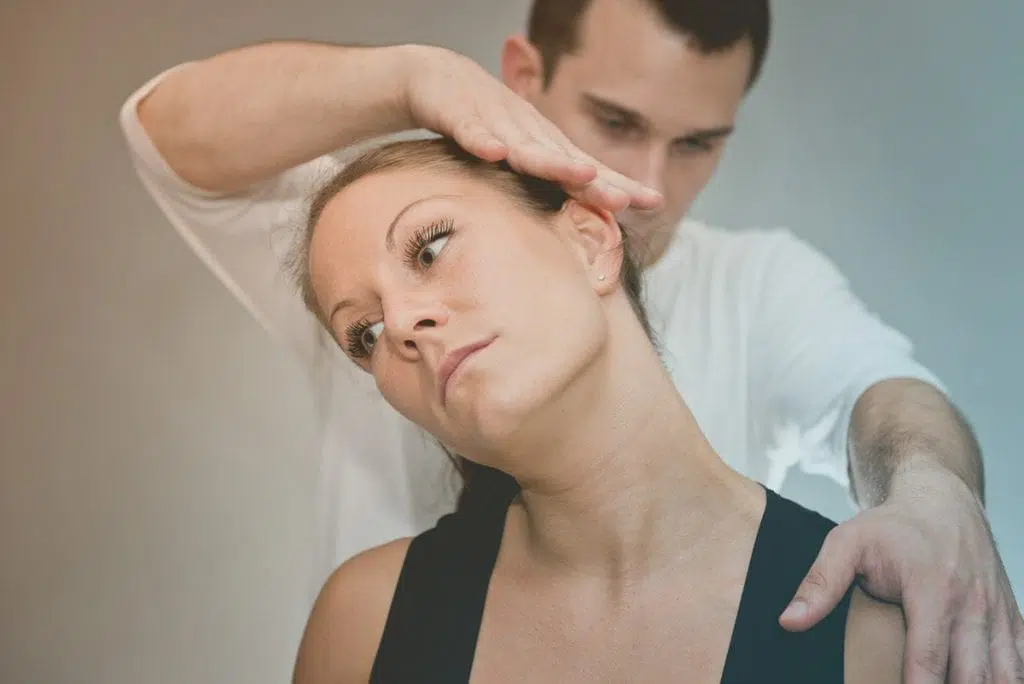 There are text neck pain treatment options available for those who develop text neck. A trained neck pain doctor can take a look at someone's neck and back. Spinal manipulation can be used to make sure the vertebrae are aligned properly. Physiotherapy can be used to ensure the muscles of the neck and back are strong enough to support the head. It is also important for people to know how to prevent text necks. When using a smartphone, raise the cell phone to the level of the eyes. This will prevent the neck from looking down at the phone continuously.
Contact a Caring Chiropractor to Learn More
If you are suffering from back, neck, or joint pain, contact a neck pain doctor. At Zaker Chiropractic, we are here to serve the families of the Torrance, San Pedro, and Newport Beach, CA areas. We consistently place the needs of our patients ahead of our own. Please read our glowing reviews posted on Yelp and Google. To learn more about how we can help you, call us today at (424) 218-0368.
---
Neck Pain Treatment: Frequently Asked Questions (FAQ)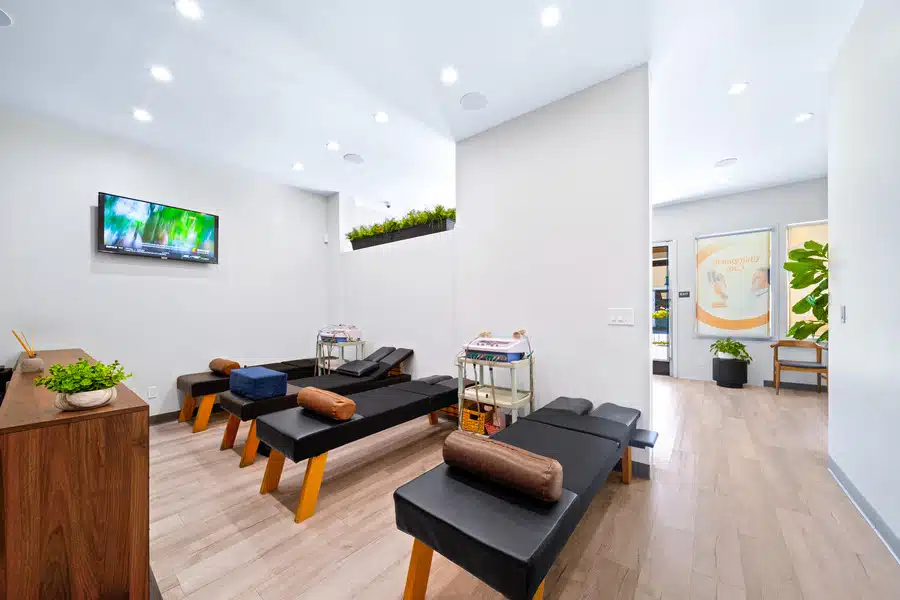 One of the most common reasons why people seek the help of a healthcare professional is for neck pain. People use the muscles in their necks almost every minute of every day. Therefore, those who suffer from neck pain often experience constant pain. This can make it hard to go to work, attend school, or even get out of bed in the morning, leading to serious impacts on someone's quality of life. For this reason, many people visit a chiropractor for help with their neck pain. What are some of the most frequently asked questions about neck pain that chiropractors have to answer for their patients?