Whiplash Treatment in Torrance at Zaker Chiropractic Pain & Wellness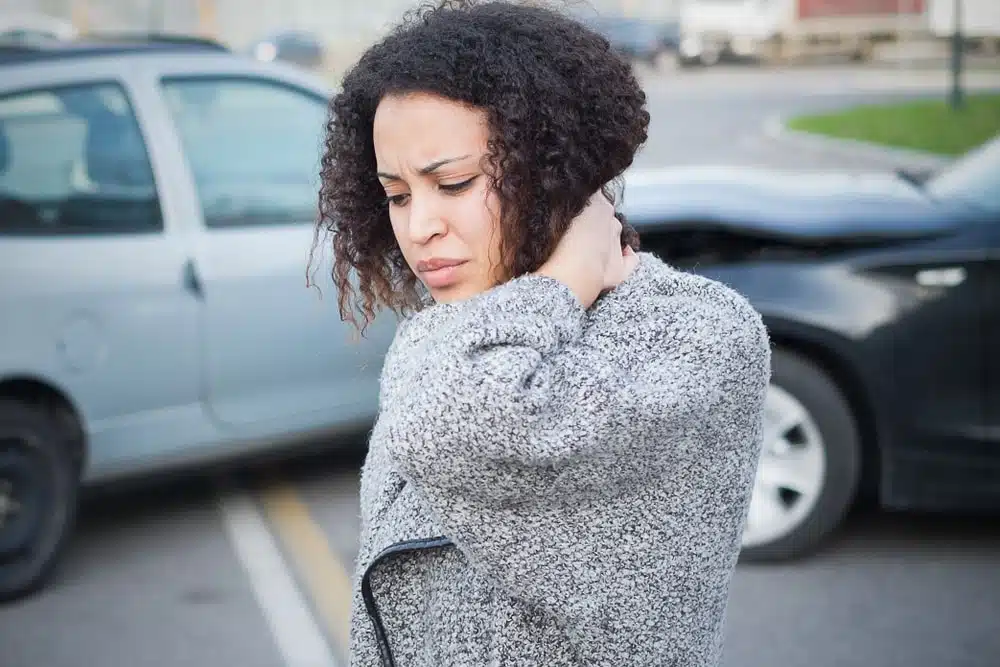 If you ever get into a car accident or experience a severe impact of any kind, you may have a very sore or stiff neck. That is because the neck is not a strong enough muscle to handle the weight of your head being thrown or jerked quickly in one direction. With three offices located in Los Angeles and Orange County, we are a trusted destination for whiplash treatment in Torrance and beyond.
What is Whiplash?
Whiplash is a type of neck injury that occurs when the head suddenly snaps forward and then backward in a rapid, jerking motion. This sudden movement can cause the neck to stretch beyond its normal range of motion and lead to damage to the ligaments, muscles, and tendons in the neck.
Whiplash injuries most commonly occur as a result of car accidents, particularly rear-end collisions, but can also be caused by other types of trauma, such as sports injuries or falls.
It's important to seek professional treatment for whiplash injuries as soon as possible, as the symptoms can become more severe and long-lasting if left untreated. A healthcare provider can assess the extent of the injury and develop an appropriate treatment plan, which may include pain medication, physiotherapy, chiropractic care, or other interventions.
In some cases, whiplash can lead to chronic pain and disability, so prompt treatment and management can help prevent long-term complications. Additionally, seeking medical attention can also provide documentation of the injury, which may be important for insurance claims or legal proceedings.
Symptoms of Whiplash
Whiplash can cause a range of symptoms that can vary in severity and duration. The most common symptoms include:
Neck pain and stiffness
Headaches
Shoulder pain
Back pain
Arm numbness or tingling
Dizziness or vertigo
Fatigue
Blurred vision
Whiplash can also impact daily activities and quality of life. The pain and discomfort can make it challenging to perform routine tasks, such as driving, working, or exercising. The restriction of neck movement can cause difficulty in turning the head, making it challenging to engage in activities that require movement or physical exertion.
Headaches and fatigue can also make it difficult to concentrate or focus, affecting productivity and overall well-being. It is essential to seek professional treatment promptly to manage symptoms and prevent the condition from worsening, enabling a faster and smoother recovery.
Our Approach to Whiplash Treatment
As soon as the accident occurs, icing the neck is a good idea to help reduce inflammation. Use ice for 15 minutes every 3-4 hours. While we do not recommend medications, if you are experiencing pain you could take an ibuprofen to reduce inflammation. Painkillers only mask symptoms and do little to treat the problem. They can also cause other problems because neck injuries can be very serious, and you need to call a doctor right away. Your chiropractor will be able to X-ray your neck to ensure there are no breaks in the spinal column before starting treatment.
If you are experiencing severe weakness, trouble talking, excessive sleepiness, unconsciousness, or confusion, you need to seek emergency medical care immediately.
For mild to serious injuries that do not require emergency medical care, call your chiropractor to get a diagnosis and treatment plan. The chiropractor will be able to recommend therapies for whiplash treatment, including:
Chiropractic Adjustment: Aligning the spine will help ease strained muscles and keep tight muscles from causing secondary issues.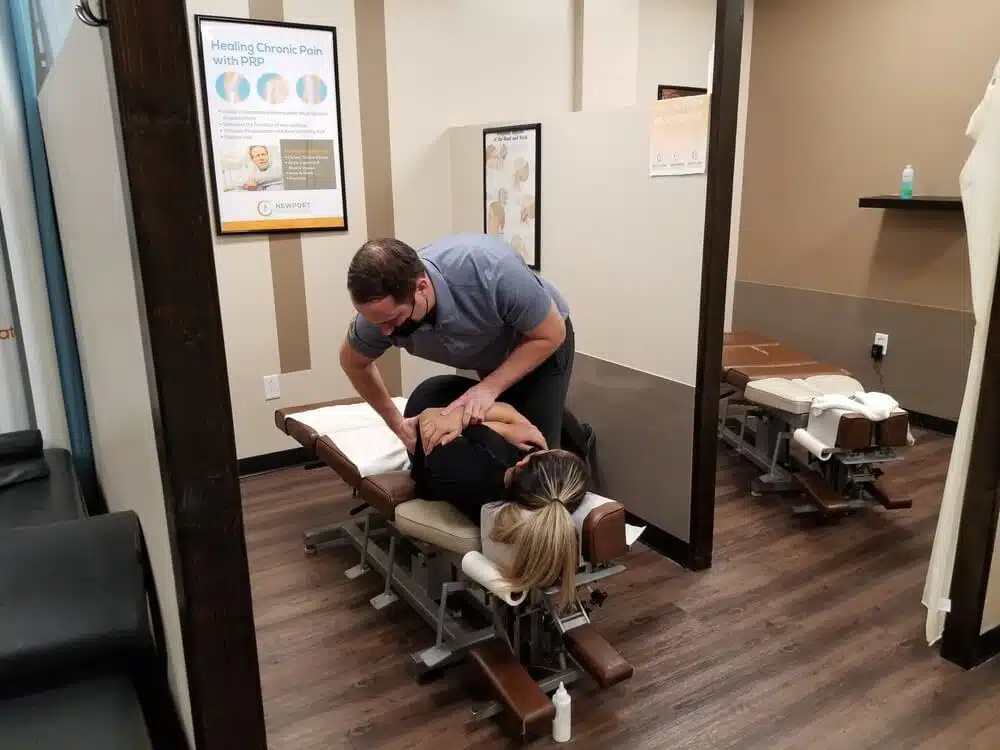 Massage therapy: Relaxing the muscles surrounding the neck, upper shoulders, and base of the skull is key to alleviating discomfort and improving neck mobility. Massage therapy helps release toxins in the muscles, decreases tension, and gets the blood moving to the areas that need healing.
Pilates: A regimen of strength and stretching can help heal and balance the body, restoring power to muscles that were weakened or strained from an accident or injury. Stronger muscles prevent the reoccurrence of injury and the process of controlled strengthening helps the injured muscles to heal.
Stretching: Keeping muscles flexible and loose will help avoid injury from tension. When neck injuries occur, it is important to keep the surrounding muscles long and relaxed (not tight and contracted).
Decompression Therapy: Depending on the issues related to your accident, injury, or trauma, decompression may be a good option for extending and relieving pressure on the spine. Bulging or herniated discs often are relieved with the use of decompression therapy.
Cryotherapy: Exposing the body to cold temperatures with cryotherapy should only be done under the supervision of experienced professionals (like our team here at Zaker Chiropractic). Cold, whole-body therapy often reduces pain and can help improve healing in injuries with inflammation.
How Our Whiplash Treatment Can Benefit You
If you've experienced whiplash, you know how debilitating it can be. Our whiplash treatment is designed to help you recover from this injury and get back to your daily routine as quickly and safely as possible. Here are some of the potential benefits of our whiplash treatment:
Pain relief: Whiplash can cause significant pain and discomfort in the neck and shoulders. Our treatment can help reduce pain and inflammation, allowing you to move more freely and comfortably.
Improved mobility: Whiplash can also limit your range of motion, making it difficult to perform everyday tasks. Our treatment includes targeted exercises and stretches to improve flexibility and restore your mobility.
Enhanced overall well-being: Whiplash can take a toll on your mental health as well as your physical health. Our treatment is designed to support your overall well-being by addressing the emotional and psychological effects of whiplash.
Our goal is to restore you to your pre-injury state and prevent long-term complications. By seeking treatment as soon as possible after your injury, you can increase your chances of a full and speedy recovery.
At our clinic, we work with you to develop a personalized treatment plan that meets your unique needs and goals. Our experienced team of healthcare professionals is dedicated to helping you achieve the best possible outcome and get back to living your life to the fullest.
Why Zaker Chiropractic Pain & Wellness is the Right Choice for Your Healthcare Needs
Our chiropractors have specialized training and expertise in diagnosing and treating whiplash injuries. With years of experience treating whiplash patients, our chiropractors take a comprehensive approach to address not just the symptoms but also the underlying causes of whiplash.
Advanced Equipment and Technologies: Our clinic is equipped with specialized tools and technologies to provide precise and effective therapies that alleviate pain, promote healing, and restore neck mobility. These advanced tools help us provide our patients with optimal results.
Success Stories and Testimonials: We have many success stories and testimonials from previous whiplash patients who have undergone our treatment. Our patients have experienced positive outcomes, including pain relief, improved mobility, and enhanced overall well-being.
Patient-Centric Approach: At Zaker Chiropractic Pain & Wellness, we put the needs and well-being of our patients first. We develop personalized treatment plans tailored to individual patients' needs and goals to achieve optimal recovery.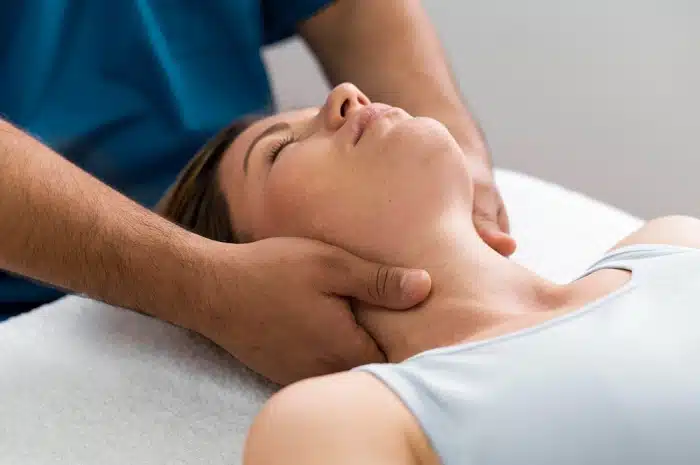 Comprehensive Care: Our comprehensive care approach considers not only symptom management but also identifies and addresses any contributing factors or related issues. We take a holistic approach to ensure the best possible outcome for our patients.
Trust and Confidence: Our clinic has a reputation for providing exceptional care and building trust and confidence among our patients. Our chiropractors have received recognition and awards for their expertise and contributions to the field of whiplash treatment.
Convenience and Accessibility: Our clinic is conveniently located with flexible office hours to accommodate our patient's busy schedules. We also offer accessibility features, such as wheelchair access, to ensure our services are accessible to all.
Patient Education and Support: We are committed to patient education and support, providing resources, guidance, and ongoing support to help patients understand their condition, treatment options, and self-care strategies.
Affordable and Transparent Pricing: Our pricing is competitive and transparent, with insurance coverage, payment plans, or financial options available to make our services accessible and affordable for our patients.
Patient Satisfaction: We are committed to ensuring our patients are satisfied with the care they receive at our clinic. We continually seek patient feedback and use it to improve our services and provide the best possible care.
OWCP Injury Claims: Our clinic has expertise in handling OWCP injury claims, and we can assist with the documentation and submission of OWCP injury claims.
Effective Whiplash Treatment in Torrance for Optimal Recovery
For effective whiplash treatment in Torrance, look no further than Zaker Chiropractic Pain & Wellness. Our experienced chiropractors are dedicated to helping patients relieve pain without resorting to drugs or surgery.
With multiple locations to serve you, including Newport Pain Beach & Wellness, South Bay Pain & Wellness, and San Pedro Pain & Wellness, making an appointment is easy.
Our multidisciplinary approach ensures that you receive comprehensive care tailored to your specific needs. Trust Zaker Chiropractic Pain & Wellness for effective whiplash treatment in Torrance and take a step toward optimal recovery. Call us today to schedule an appointment.