Muscle Tear Treatment is Provided at Zaker Chiropractic
The pain and stiffness of a torn muscle can make everyday life a chore at best, and an impossibility at worst. Are you hobbling around the house, struggling to find a comfortable resting position, or having difficulty using one of your extremities for even simple tasks? If so, then you may need some expert assistance in conquering your pain and getting back to your routine. Here at Zaker Chiropractic, we can provide muscle tear treatment as part of an overall plan to help you rehabilitate your body, correct underlying structural imbalances, and avoid future injuries in San Pedro, Torrance, or Newport Beach CA.
The Many Causes of Muscle Tears
What do we mean by the term "muscle tear," and how does this condition differ from, say, a strain or sprain? First of all, a sprain involves the stretching or tearing of ligaments, while a strain involves the stretching or tearing of muscles or tendons. A muscle or tendon that has only undergone stretching may be said to merely be strained. But if those muscle fibers have been stretched to the breaking point, an actual tear will develop in the tissue. A muscle tear is also classified as a Grade III strain.
Just as muscle damage can vary in severity, muscle tears can stem from a variety of causes. Common examples include:
Sports injuries - It's all too easy to tear a muscle while participating in your favorite sport. This is especially true if you haven't stretched or limbered up properly beforehand. Cold weather can increase your risk further. Even if you're all warmed up, you can still tear a muscle by hyperextending a joint or placing the muscle under too much stress all at once.
Auto accidents- Auto accidents tend to force your body into positions it just shouldn't assume, causing torn muscles as well as dislocated joints, herniated discs, and spinal misalignment. Whiplash is an infamous example. As your head is whipped back and forth at high speeds, your neck and shoulder muscles may be stretched and torn. If you have recently been in a car crash or auto accident, it's important to see treatment early to prevent issues surrounding your muscle tears.
Workplace injuries - Did you slip and fall at work, or attempt to lift something you shouldn't have? These and other workplace accidents can cause acute muscle tears in your lower back. A twisting injury can also tear the muscles of your rib cage or upper back.
The Chiropractic Approach to Muscle Tear Treatment
Many people don't know what to do after a muscle tear, other than simply suffering from it. A muscle tear may produce, not only pain and stiffness, and also acute redness and swelling at the injury site. Getting that acute inflammation under control should be the first item on your list of what to do after a muscle tear. Once you've succeeded, the next steps will involve careful rehabilitation to help the muscle fibers repair themselves normally -- instead of allowing them to get trapped by adhesions, lumps of scar tissue that can impair healing and lead to chronic pain.
Zaker Chiropractic can help through all stages of your muscle tear recovery process. Our treatment techniques for soft tissue damage include: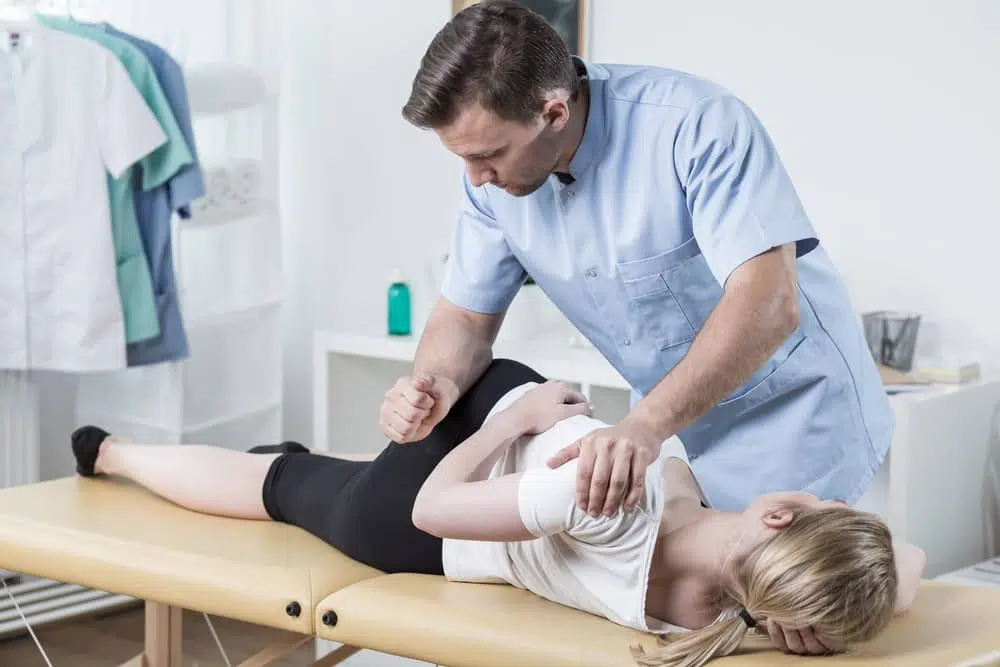 Why Choose Zaker Chiropractic?
It might sound strange to visit a chiropractic clinic for a muscle problem, but Zaker Chiropractic makes an ideal choice for your torn muscle treatment. That's because we don't just relieve your acute distress -- we also evaluate your physical structure, medical history, lifestyle, and other factors to understand the cause of your muscle tear. This allows us to provide you with both a holistic care plan and a long-term strategy for staying well.
Give Your Injured Muscle the Best Chance to Heal Normally
When you have a musculoskeletal problem, your best bet is to consult the musculoskeletal specialists at Zaker Chiropractic.
For more answers about how we can help you relieve pain without drugs or surgery, make an appointment with Zaker Chiropractic. Our chiropractors provide a wide variety of services to diagnose and treat your condition. Zaker Chiropractic has several locations to serve you. Call (949) 734-4454 for an appointment with Newport Pain & Wellness, (424) 235-1562 for South Bay Pain & Wellness, or (310) 831-0003 for an appointment with San Pedro Pain & Wellness. Each clinic offers a multidisciplinary list of services.