Shoulder Pain Treatment at Zaker Chiropractic - Newport Beach, Torrance, San Pedro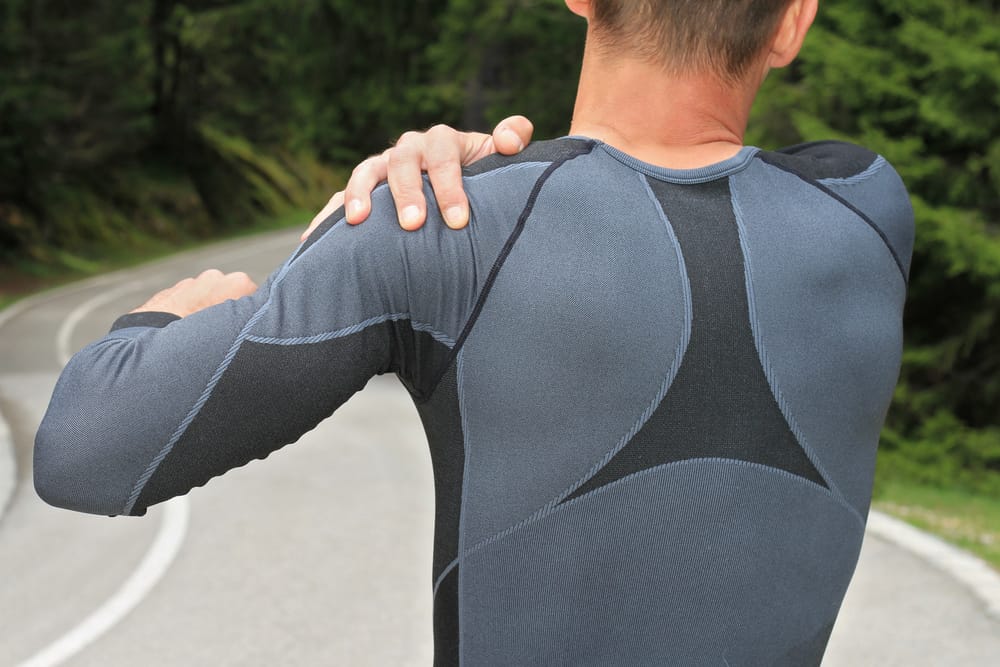 Shoulder pain is rarely an isolated symptom, and you need a treatment plan that targets the source of your pain to encourage healing and provide relief. At Zaker Chiropractic, our complete wellness team includes chiropractors, rehabilitation specialists, personal trainers and physical therapists who work together to diagnose and treat the source of shoulder pain and other symptoms using a variety of non-surgical, non-invasive treatment therapies tailored for your specific needs.
Common Causes of Shoulder Pain
Whether your pain is caused by a shoulder injury, an injury elsewhere in the body, or a chronic condition, we will get to the bottom of your symptoms to personalize an effective treatment plan. If you have sudden or chronic shoulder pain, we will examine your spine, elbow, and wrist in addition to your shoulders to figure out where and how your injury affects you. Here are some of the most common causes of shoulder pain we see at our 3 sports rehab facilities in Torrance, San Pedro and Newport Beach:
Sports Injuries
Many athletes use their shoulders for rigorous, repetitive movements that put added stress on the tissue and bones, and over time, this may cause inflammation or deterioration in the shoulders. Throwing, catching, swimming, and hitting is all activities that carry risks of a repetitive shoulder injury. Of course, sudden movements during competition or practice can also cause over-rotation, bruise, tear, and other sudden injuries.
Arthritis
Arthritis is a degenerative condition that affects the cartilage, crucial tissue that's responsible for protecting and lubricating your shoulder joints (and other joints in your body). If your shoulder cartilage is worn down, your shoulder bones may rub together, resulting in swelling, pain, and weakness.
Soft Tissue Injuries
Sports injuries aren't the only acute and repetitive injuries that damage the soft tissue in the shoulder. The muscles, ligaments, and tendons in your shoulder are easy to sprain or strain, and poor posture or lack of support will cause gradual injuries just as painful as sudden sprains. Poor sleeping positions, constant smartphone use, and poor posture or ergonomics at work can all cause injury to the shoulder tissue.
Rotator Cuff Injury
A rotator cuff tear is a common but painful injury that may weaken your upper arms and shoulders, leading to serious mobility loss in addition to shoulder pain. Torn rotator cuffs are common in many sports and workplaces because the tendons in your shoulders require proper stabilization and can only sustain so much force before tearing. Our rotator cuff injury treatment options range from chiropractic care and stem cell therapy for partial tears, to shoulder surgery for complete tears.
Chiropractic Care and Sports Rehab Treatment for Shoulder Pain
Is shoulder pain interfering with your quality of life? We offer a variety of shoulder pain treatment options and modalities at Zaker Chiropractic. Our pain management and treatment techniques are designed to suit each individual patient, so your treatment and therapy regimen will reflect your unique needs, symptoms, and lifestyle. Call us today to schedule an appointment and get started on your journey to shoulder pain relief.
Request An Appointment with our Shoulder Pain Doctors in San Pedro, Torrance or Newport Beach
You can find the relief you need from our shoulder pain doctors in Newport Beach, Torrance and San Pedro. We encourage you not to wait to obtain help. Call 424-235-1562 for our Torrance office, 949-734-4454 for our Newport Beach location, or 310-831-0003 for our San Pedro office.