Ankle Pain Treatment Provided by Zaker Chiropractic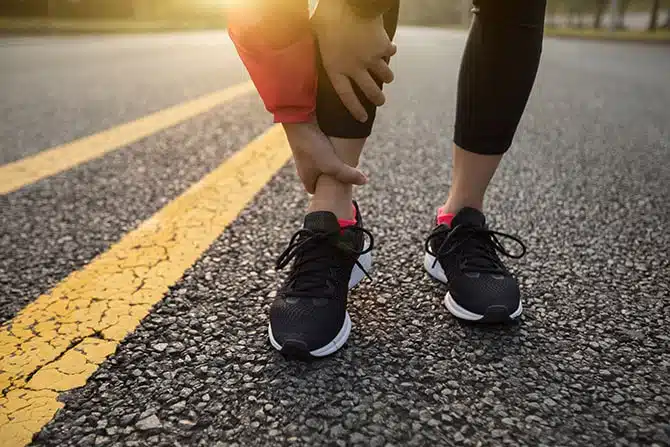 With many years of combined experience in alternative ankle pain treatment, we are proud to provide a wide range of holistic healing solutions to patients of all ages. At Zaker Chiropractic, we utilize the most advanced treatment methods to help our patients manage recurring or chronic pain without prescription medication. Whether you've been injured on the soccer field or you've been dealing with chronic ankle pain for ages, our friendly and experienced chiropractor is here to help!
What Are Some Causes of Ankle Pain?
Ankle pain is often the result of a sprain or other injury that leads to ankle instability. Some of the common causes that our chiropractor typically diagnoses include the following:
Tendonitis — inflammation or irritation of a tendon or the thick cord that attaches bones to muscle.
Gout — a complex form of arthritis that often affects the bones in the feet and can result in reoccurring instances of intense pain.
Arthritis — inflammation of the joints that is often present in one or more joints. The 2 most common types of arthritis are osteoarthritis and rheumatoid arthritis.
Sports injury — sprained or strained ankles are very common for athletes of all ages and skill levels.
Fractures — often the result of a sports injury, auto accident injury, or other trauma.
Tarsal Tunnel Syndrome — the compression or squeezing of the posterior tibial nerve. Similar to Carpal Tunnel Syndrome, the condition can result in severe and chronic pain.
Additionally, ankle pain is often associated with stiffness or swelling of the area, redness, and an overall feeling of warmth. Pain can range from a dull ache that fades in a few hours or days, to reoccurring searing pain that makes it difficult to complete everyday activities with ease. The pain also makes it difficult for the ankle to achieve a full range of motion or bear the full weight of the body.
How We Use Cryotherapy to Treat Ankle Pain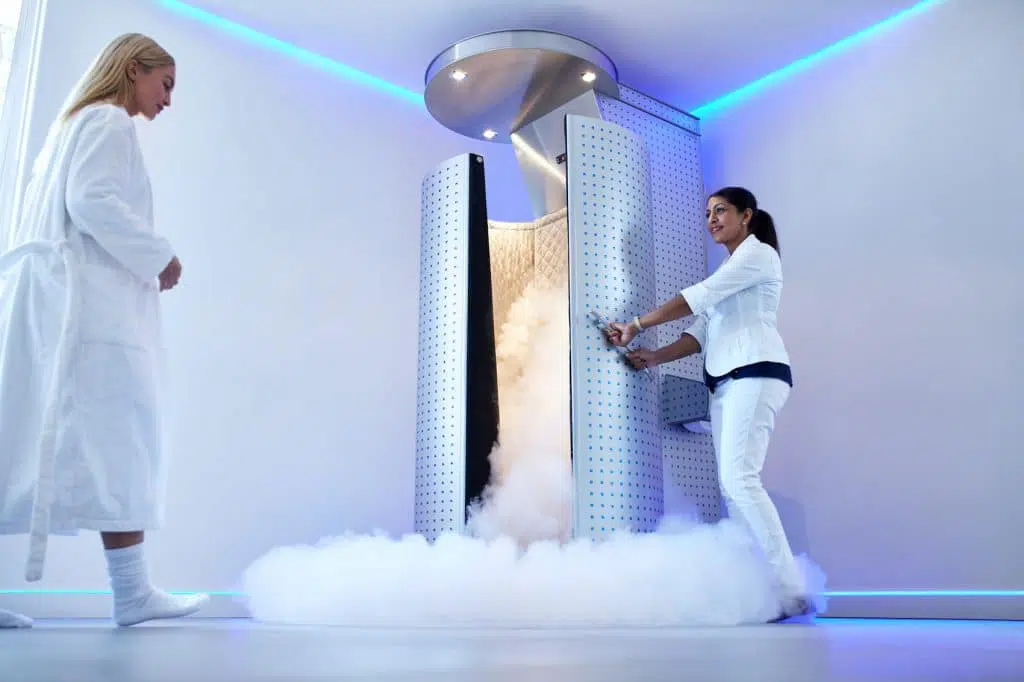 Typically, our ankle pain doctor will suggest that patients schedule an initial consultation if they notice that their ankle pain persists for more than a week. In certain cases, ankle pain can be an indicator of a more severe issue, so it is important to see our chiropractor as soon as possible after an injury. We often combine both instrument-based and manual adjustments, to provide effective pain relief while also reducing inflammation and promoting faster healing.
One of the most effective treatment methods we utilize for ankle pain is cryotherapy. This advanced ankle pain treatment method is used to reduce swelling, and pain sensitivity, and is effective in managing chronic pain. Cryotherapy works by lowering your skin temperature and reducing nerve activity. Your sessions can be used to target a specific area of the body, or you can choose to receive a whole-body treatment. For whole-body cryotherapy, each patient enters a small enclosure that is capable of dropping in temperature to between 200-300 degrees Fahrenheit. Quick and effective, each session only lasts from 2 to 4 minutes­—numbing your nerves and reducing swelling.
Ankle Pain Treatment: How We Use Rehab, Physiotherapy, And Exercises
Your ankle is designed to provide your body with stability and strength but can easily become injured due to overuse or a traumatic injury. Any injuries to the leg, foot, or general ankle area can lead to stiffness, inflammation, and ongoing pain. In many cases, ankle pain will fade away quickly, but if you notice the pain continues for several weeks or months, you should contact our chiropractor as soon as possible. Our ankle pain doctor has the knowledge and skills necessary to combine regular chiropractic adjustments with other effective holistic therapies to help promote faster healing and reduce your pain quickly. Depending on the severity of your injury, we may recommend keeping up with at-home strengthening exercises as well as physiotherapy and rehabilitation appointments. Each of these essential treatment methods can be helpful to reduce inflammation and restore the full range of motion in the ankle and foot.
Why Zaker Chiropractic?
At Zaker Chiropractic, we are truly dedicated to helping each one of our patients discover an alternative to traditional pain treatment. From preventative chiropractic care to the treatment of chronic pain injuries—we understand the complexities of the musculoskeletal system from the inside out. If you're struggling with an ankle injury, it's important to treat your pain quickly before causing further damage to the intricate bones, ligaments, and nerves in that area of the body. Interested in learning more about the benefits of chiropractic care for ankle pain relief? For more information on ankle pain treatment, contact our friendly chiropractor online today, and be sure to schedule an appointment.