Our experienced San Pedro chiropractors Dr. Misa Zaker and Dr. Jong H. Kim, D.C., have years of experience treating a variety of musculoskeletal injuries in athletes and non-athletes. Whether you hurt yourself on the field, while participating in a sport, or as the result of a sudden accident, visit our chiropractic center in San Pedro! In all 3 of our locations in the South Bay area, we offer full consultations and complete diagnostic testing to precisely diagnose your injury or condition. Once our chiropractors have made an accurate diagnosis, we will provide you with a complete treatment plan to reduce your symptoms and help you heal naturally. we'll even adjust your treatment program as you heal to maximize the healing benefits.
Conditions Treated by Our Chiropractors
Our skilled chiropractors in San Pedro treat a wide variety of acute and chronic soft tissue injuries and conditions from lower back pain to sports, and repetitive motion injuries.
Back and Neck Pain
Degenerative Disc Disease
Herniated discs
Pinched Nerves
Runner's Knee
Sciatica
Shoulder Injuries
Tennis Elbow
Whiplash
Our Therapies & Treatments
All of our treatment options are natural, and our treatment programs often utilize a multifaceted approach. For example, our San Pedro chiropractor may recommend chiropractic adjustments or massage therapy for an extremity joint or back injury. As you progress through the treatments, our chiropractors may add physiotherapy and spa treatments to help you make the most complete recovery possible.
Diagnostic Testing
Our diagnostic testing services include neuromuscular ultrasound, Nerve Conduction Velocity (NCV), electromyography, and X-ray imaging.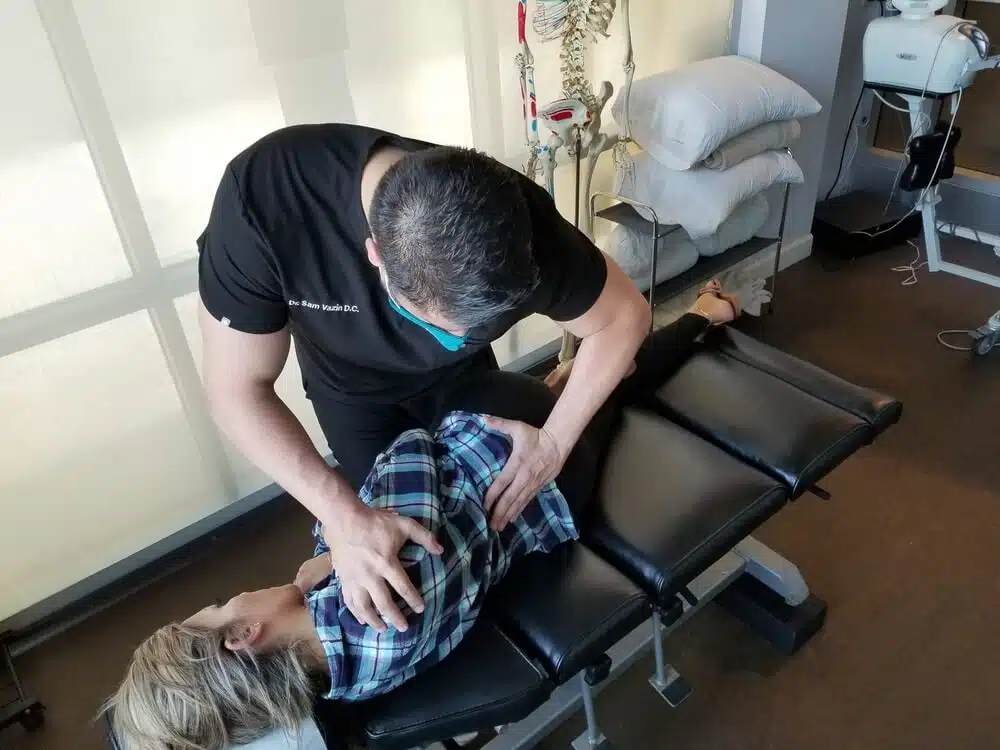 Chiropractic Care
Chiropractic care encompasses spinal and extremity joint manipulations, which are beneficial for treating subluxations and restoring joint mobility while reducing pain.
Cryotherapy
Cryotherapy can be used on a specific area of your body or your entire body. It is used to reduce inflammation and pain from a variety of ailments, including nerve pain, arthritis, chronic pain, and fatigue.
Manipulation Under Anesthesia (MAU)
If you have a range of motion issues and are in need of breaking up scar tissue, our chiropractor offers manipulation under anesthesia, which can help you when other treatments have not had their desired effects.
Massage Therapy
Massage therapy helps reduce pain while improving circulation and helping injured or overworked muscle release lactic acid.
Personal Training
Personal training can help you improve your physical conditioning, endurance, and strength.
Physiotherapy
Physiotherapy is beneficial for increasing the strength and range of motion in the injured areas of your body. It encompasses specific strength training exercises, stretching, and cardio.
Spinal Decompression
Non-surgical spinal decompression helps heal pinched nerves and herniated discs.
Get to Know Our San Pedro Chiropractors: Dr. Misa Zaker and Dr. Jong H. Kim, D.C.
Dr. Misa Zaker
Dr. Misa Zaker is the owner and primary chiropractic doctor at Zaker Chiropractic. He has treated amateur and professional athletes from marathon runners to competitive dancers and professional UFC wrestlers. His primary goal is to help you recover from your sports, work-related or repetitive motion injury naturally so that you can avoid surgery and get back to living your active lifestyle. He is certified in manipulation under anesthesia (MAU) as well as nerve conduction velocity (NCV).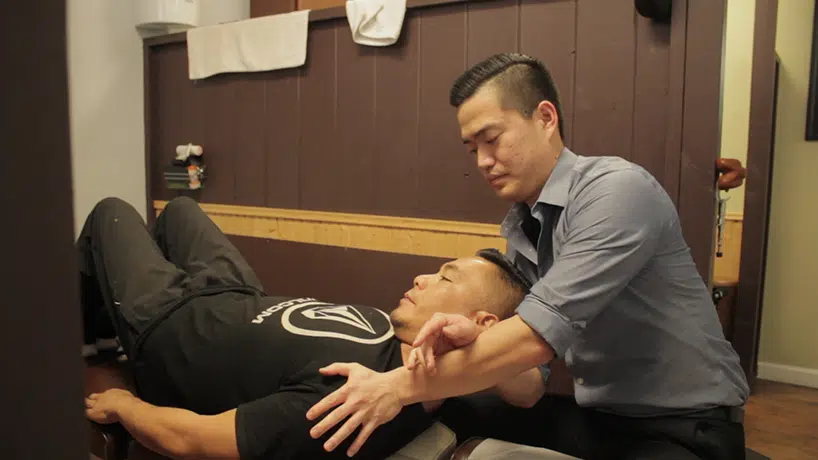 Jong H. Kim, D.C.
Dr. Johng H. Kim, D.C. has been practicing chiropractic care since he graduated from the Palmer College of Chiropractic in 2010. He specializes in many different chiropractic treatments and is certified in the use of manipulation under anesthesia (MAU). He is also a chiropractic extremity practitioner (CCEP). His focus is healing through soft tissue therapies.
Contact Our San Pedro Office To Schedule a Consultation!
Our San Pedro office boasts more than 7,500 square feet of dedicated health and wellness space. We are proud to be able to offer a full gym for our clients, a spa, and a cryotherapy center. To learn more about what our current and past clients are saying, feel free to check out our Yelp and Google+ reviews.
To schedule an appointment with one of our licensed chiropractors at our San Pedro office, call us at 310-831-0003 Ext. 1. You can also visit one of our other 2 locations - South Bay Pain & Wellness in Torrance and Newport Pain & Wellness in Newport Beach if it's closer to you. We have immediate appointments available!