Working as a longshoreman can be a fulfilling and rewarding career; however, this is also a demanding occupation. Those who have been in this field for several years know that injuries can arise. Some people might not know how to cope with these injuries and worry that they might threaten their ability to return to work. The good news is that there are trained chiropractors who can help people who have suffered longshoreman injuries, allowing them to get back to work as safely and as quickly as possible.
Common Injuries Sustained by a Longshoreman
If someone is a dockworker or docker, there are a variety of injuries that could arise. Some of the most common injuries that a longshoreman might suffer include:
Back Pain: Back pain is one of the most common issues faced by a longshoreman. If someone is suffering from back pain, this might be a sign of poor posture that happens when a docker bends over all day. Back pain can also be a sign of a pinched nerve, particularly if this pain radiates. Finally, back pain can also be a sign of a herniated disc. A longshoreman doctor will know how to get to the bottom of this injury.
Neck Pain: Neck pain is also common in a dockworker. If someone suffers from neck pain, this can make it hard to look around, particularly involving side-to-side movements. Neck pain could also be a sign of whiplash, which might happen if a longshoreman has been involved in a recent accident.
Shoulder Pain: In someone who has been lifting heavy objects, such as a longshoreman, shoulder pain can also arise. If someone suffers from shoulder pain, this might be a sign of a rotator cuff injury. This can make it hard to lift heavy objects. It could also be a sign of bursitis. Count on a longshoreman doctor to make the right diagnosis.
Hip Pain: Finally, hip pain is also commonly seen in longshoremen. The stress of bending over and being on the feet all day can place a lot of stress on the lower limbs of a longshoreman. Fortunately, there are treatment options available to help people who suffer these injuries.
Non-Surgical Treatment Options Are Available
One of the most common worries that a longshoreman might have is that they are going to require surgery. They worry about the complications of this procedure and how long they might be out of work. The good news is that there are non-surgical treatment options available. These include: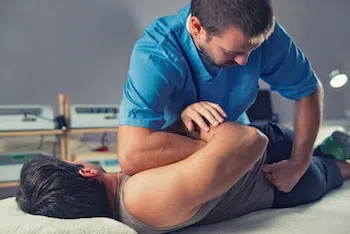 Chiropractic Care: A chiropractor can perform adjustments and manipulations on someone to ensure the joints are properly lined up. This will give the body the foundation it needs to make a full recovery.
Massage Therapy: Massage therapy can also be helpful for someone who has suffered a longshoreman injury. Massage therapy can be used to help the muscles and nerves relax, helping pain to dissipate.
Physiotherapy: Finally, physiotherapy is used to prevent injuries from coming back. Physiotherapy can strengthen the muscles and tendons, providing extra support to vulnerable areas of the body.
A Stevedore chiropractor can make sure that someone doesn't just get better but stay better as well.
We Accept your Longshoreman Insurance
At Zaker Chiropractic, we accept your Longshoreman Insurance (USL&H). We know that you have concerns about how you are going to pay for your medical care. That is why we take Longshoreman Insurance (USL&H) and make sure that our patients are placed in a good position to make a full recovery.
Trust in a Compassionate Pain Management Physician
At Zaker Chiropractic, we provide comprehensive pain management services. Our services include chiropractic services, physiotherapy, rehab services, stretching, strengthening exercises, sports injury rehabilitation, and more! We work hard to make sure that every longshoreman who comes to see us is placed in a position to make a meaningful recovery. Our compassion is reflected by the positive reviews written by our patients and posted on Yelp and Google. Please call our team at (424) 235-1562 to make an appointment!