If you are a parent, then you want to make sure that your kids have access to the best healthcare available. You need to take a well-rounded approach when it comes to the healthcare of your children. That is where we can help. As a pediatric chiropractor, we are here to make sure that your kids are taken care of from head to toe. You may have heard that a lot of parents are taking their kids to the chiropractor. Chiropractic care for kids is safe. We are here to address your concerns and make sure that you understand how we can help you and your family.
What Is a Pediatric Chiropractor?
A pediatric chiropractor is a healthcare provider who specializes in the treatment of children. As chiropractors, we go to four years of chiropractic school after we finish college. Then, we undergo additional training to make sure that we know how to take care of children safely.
We know that parents want to make sure that their kids are safe when they come to see us. We have a few techniques that we use to make sure that kids are comfortable during the visit. We anticipate children to have a certain degree of nerves when they go to the doctor. That includes us. That is why we will take the time to speak to your child on his or her level. We will make sure that he or she is comfortable during the visit.
One of the techniques that we use to help children is called the Webster technique. This is a specific type of chiropractic sacral analysis. Then, there is an adjustment that takes place. The goal of this technique is to reduce the impacts of sacral subluxation and sacroiliac joint dysfunction. In this manner, we can alter and improve the biomechanical function of the pelvis.
What Conditions Can a Pediatric Chiropractor Treat?
There are a few conditions in which we specialize to make sure that we meet the needs of your child. Some of the most common conditions that we treat include: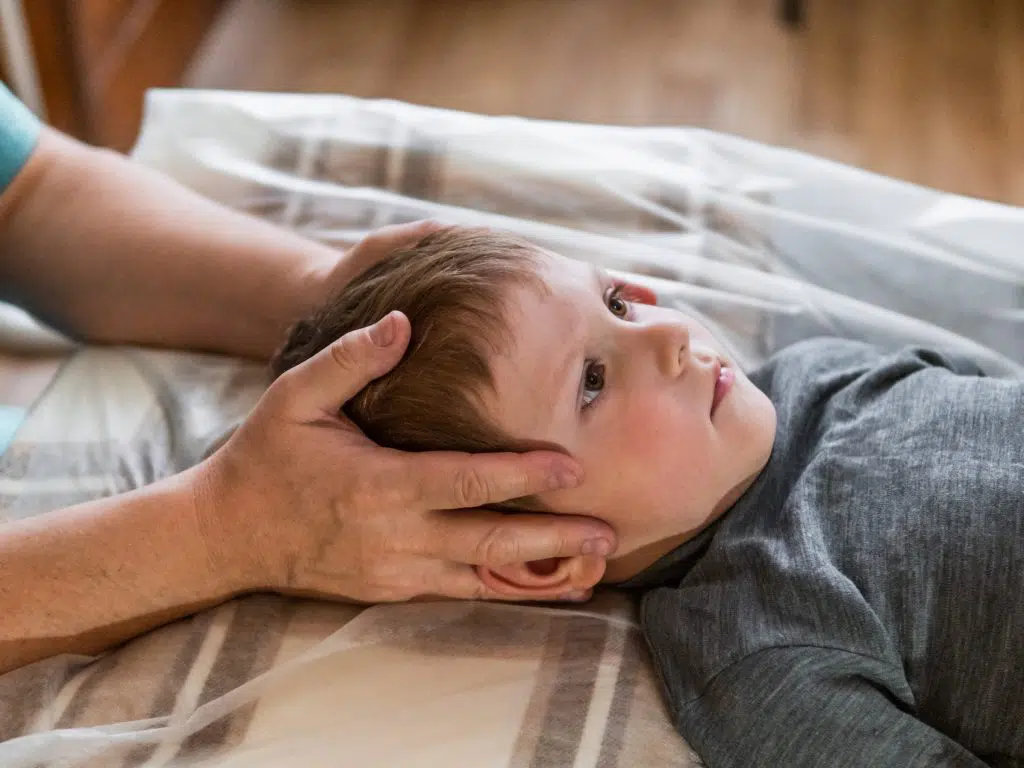 Colic: This is a common issue that babies develop. Babies that suffer from colic are prone to developing crying spells. They tend to cry for prolonged periods for several days in a row, making it hard for parents to focus. We know how to take a look at what might be causing this. Then, we can address it efficiently using a well-rounded approach that will target the root cause of the issue.
Acid Reflux: Also called gastroesophageal reflux disease, this is a common problem in kids of all ages. We will take a look at the alignment of the spine of your child. Then, we will see if this is impacting the nerves in the digestive system. If we find issues that need to be addressed, we can use adjustments to target the nerves in the GI tract. This can go a long way toward helping your child.
Scoliosis: This is another common problem that we treat in children. Scoliosis refers to an abnormal curvature of the spine from side to side. When this happens, children might have issues with not only back pain but also the function of the abdominal organs. We can adjust the curvature of the spine gradually, making sure that children are taken care of from head to toe.
Ear Infections: While it is important to target the bacteria causing ear infections, as chiropractors, we can also address the anatomic issues that make your child prone to ear infections. Our holistic approach can help your child.
These are just a few of the common conditions that we can treat.
How Often Should Your Baby See a Pediatric Chiropractor?
We recommend that you take your baby to see us every few months. The recommended checkups are at 2 weeks of age, 1 month, 3 months, 6 months, and one year. That allows us to make sure that your child is developing appropriately.
Why We're The Best Pediatric Chiropractor
At Zaker Chiropractic, we have three locations throughout South Bay and Orange County. We place the needs of your child first. Call us today at (424) 235-1562 to make an appointment!