Here at Zaker Chiropractic Pain and Wellness we can help you recover with your post surgical rehabilitation by strengthening and mobilizing the affected site of the injury. Whether it is pre surgery or post, we will help you get back to full recovery in the shortest period of time. Some of the common conditions treated are:
Arthritis.

Sciatica

Back and neck pain.

Carpal tunnel syndrome.

Degenerative joint disease.

Foot and ankle pain and sprains.

Hip, wrist, elbow, pelvic and other fractures.

Knee sprains, strains and other injuries.

Plantar Fasciitis

Tennis/Golfers elbow

Shoulder sprains, strains, tears and other impingement symptoms
Meet Our Physical Therapist
Cecilia Godoy-PT, DPT
Cecilia Godoy-PT, DPT
Dr. Godoy, an established physical therapist in California since 2003, is a master clinician, an efficient director and a sought after therapist. Instrumental in ushering patients attain their goal— gaining better mobility and function—-by alleviating pain, increasing range of motion, building strength and endurance with emphasis on quality of movement and performance.
Upholding the mission of both her alma mater (Loma Linda University):
"To make man whole" and her company (Thera Touch Physical Therapy, Inc.)
"Love, Dedication, Service " she reflects the core values of a competent and caring healthcare professional. Focusing on an individualized program, she ministers to a variety of clients with a belief in service before self that exemplifies a work ethic of integrity and excellence.
"My purpose as a physical therapist is to serve when there's a need or call, with or without
financial gain." —-Dr. Godoy
"At times a simple sincere smile can penetrate deeper than a hot pack and a shoulder to lean on is better than a cane." —-Dr. Godoy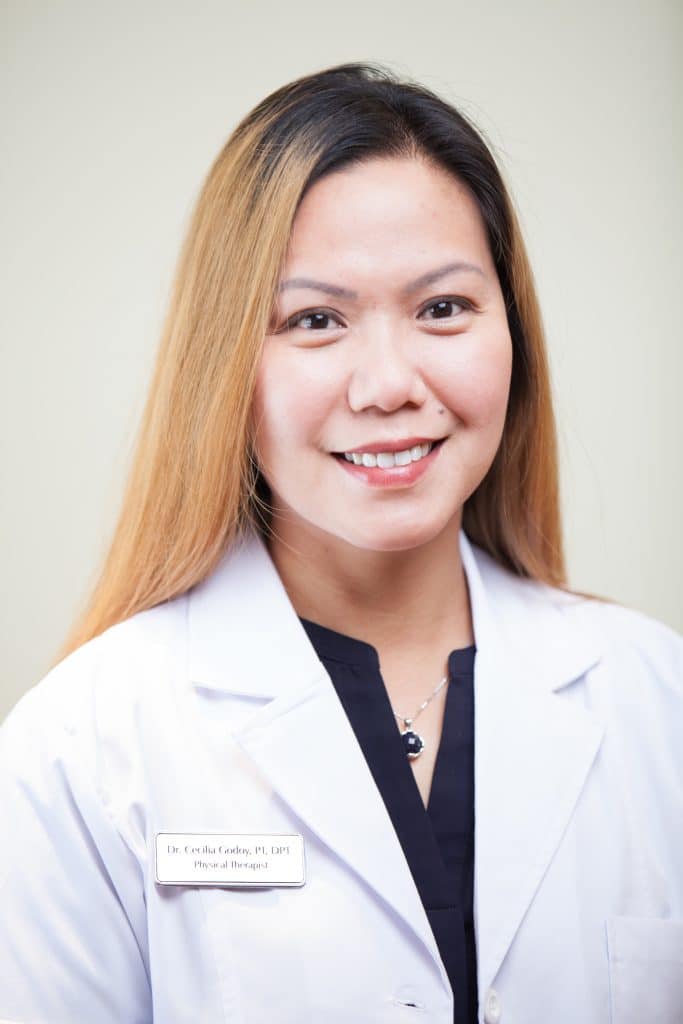 New patients get a FREE 30-minute Massage/Pilates or Strength Training!
Schedule your consultation today!