Physical Therapy is Provided by Zaker Chiropractic Pain & Wellness
Here at Zaker Chiropractic Pain and Wellness we can help you recover with your post surgical rehabilitation by strengthening and mobilizing the affected site of the injury. Whether it is pre surgery or post, we will help you get back to full recovery in the shortest period of time. Some of the common conditions treated are:
If you have recently suffered an injury, then you might be thinking about having surgery. Or, you could be thinking about other invasive treatment options. It is important to know that there are other treatment options available that could help you avoid complications and side effects. This includes physical therapy. At Zaker Chiropractic, we are proud to provide everyone with access to a Newport Beach physical therapist. The goal of visiting with a physical therapist in Newport Beach is to make sure that you have a comprehensive treatment plan that is going to address all of your needs. Learn more about how working with a physical therapist in Torrance can help you achieve your recovery and treatment goals.
What Should You Expect During Your Physical Therapy Treatment?
When you are working with a physical therapist in Newport Beach, you should have a few expectations. First, the physical therapist is going to work with you to develop a treatment plan that has been tailored to meet your needs. Therefore, during the initial visit, you should expect to be asked plenty of questions about your injury, how you got it, what makes it better, what makes it worse, and what your goals are.
After this, you should expect a treatment plan to be laid out clearly. The vast majority of physical therapy plans are going to include sets of exercises that are designed to help you improve your mobility, flexibility, and strength. The physical therapist should work with you personally, ensuring that you are performing every exercise correctly. Only if by performing exercises correctly will you be able to enjoy all of the benefits of these treatment sessions.
Once you get more comfortable with your treatment plan, you should expect to be given exercises that you can perform at home as well. By performing the same sets of exercises at home, you will be able to recover more quickly. In the end, physical therapy might not be able to provide you with a one hundred percent recovery; however, it will provide you with a comprehensive treatment plan that could help you recover from surgery, avoid surgery totally, add restore functionality to an injured body part.
What Common Conditions Can a Physical Therapist in Newport Beach Treat?
There are a number of common conditions that a Newport Beach physical therapist could be able to treat. These include: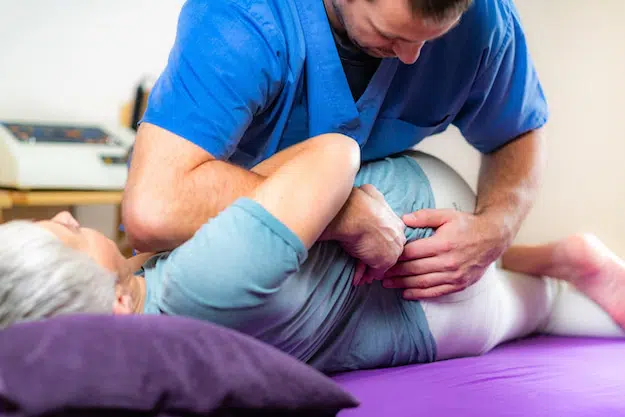 Post-Surgery: One of the most common applications of physical therapy is to help patients recover after a surgical procedure. Following surgery, it is not unusual for the muscles to atrophy. Physical therapy can be used to restore strength and flexibility to these muscles.
Ankle Sprain: Physical therapy is also commonly used to help people who have suffered an ankle sprain.
Muscle Strains: Muscle strains, such as hamstring injuries, can be treated using physical therapy.
Rotator Cuff Injuries: Individuals who have a torn rotator cuff might be looking for ways to avoid surgery. Physical therapy can be used instead of or in conjunction with shoulder surgery.
Knee Injuries: The injuries are incredibly common and physical therapy can be used to help people improve their flexibility, mobility, and strength in their needs.
An Overview of Treatment Services from a Newport Beach Physical Therapist
Physical therapists in the local area can provide you with a wide range of services. First, Physical therapy can be used to help diagnose certain injuries, helping you figure out what is going on. Then, Physical therapy can also be used to improve the flexibility of an injured body part. Finally, Physical therapy also plays a role in strengthening muscles, helping people prevent injuries in the future. In this manner, physical therapy services can be tailored to meet your unique needs.
Contact Zaker Chiropractic Today for a Physical Therapist in Torrance
If you are looking for a chiropractor in the local area who can help you find the right physical therapist to meet your needs, then look no further than Zaker Chiropractic. At Zaker Chiropractic, our goal is to make sure that you are given a well-rounded treatment plan that is going to not only help you get better but stay better as well. That is why we provide you with access to chiropractic care, massage therapy, sports rehab, physical therapy, Pilates, decompression therapy, and physical therapy. We always have immediate appointments available, along with full diagnostic testing and consultation, and we provide you with access to our glowing reviews on Yelp and Google. We will tailor our treatment options to meet your unique needs. To learn more about how we can help you, contact us today at (424) 235-1562 to make an appointment with our team!
---
Meet Our Physical Therapist
Cecilia Godoy-PT, DPT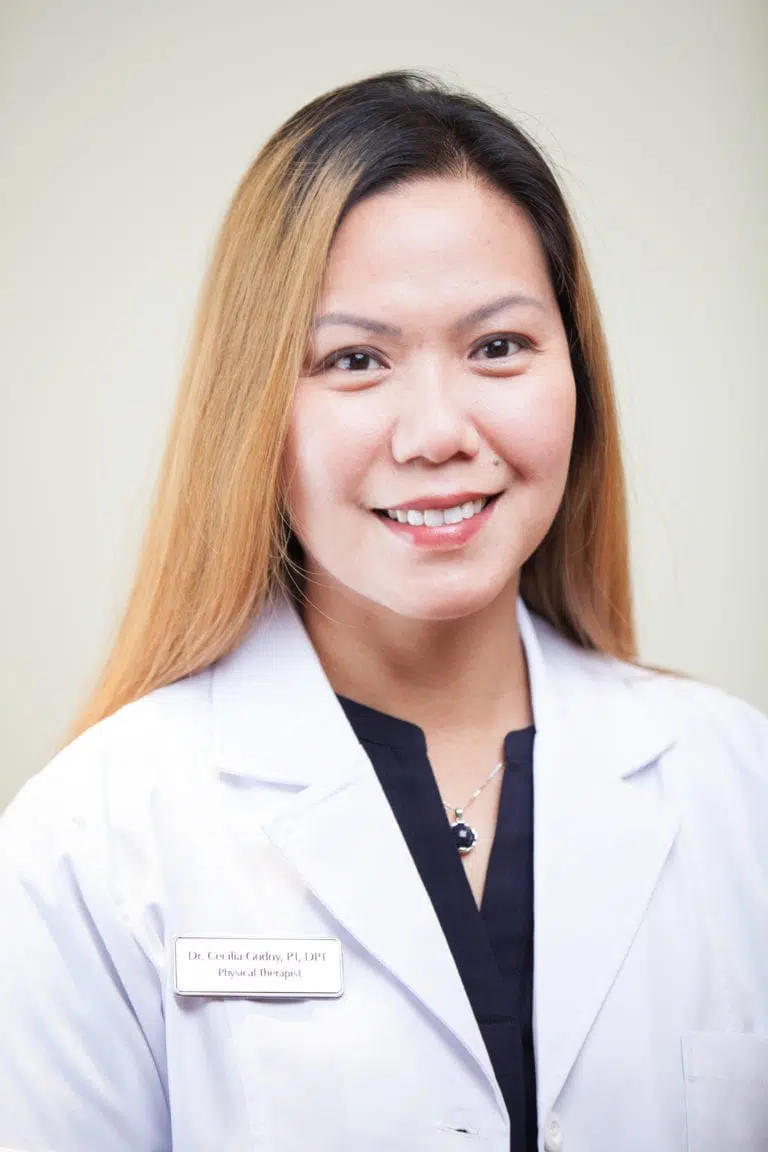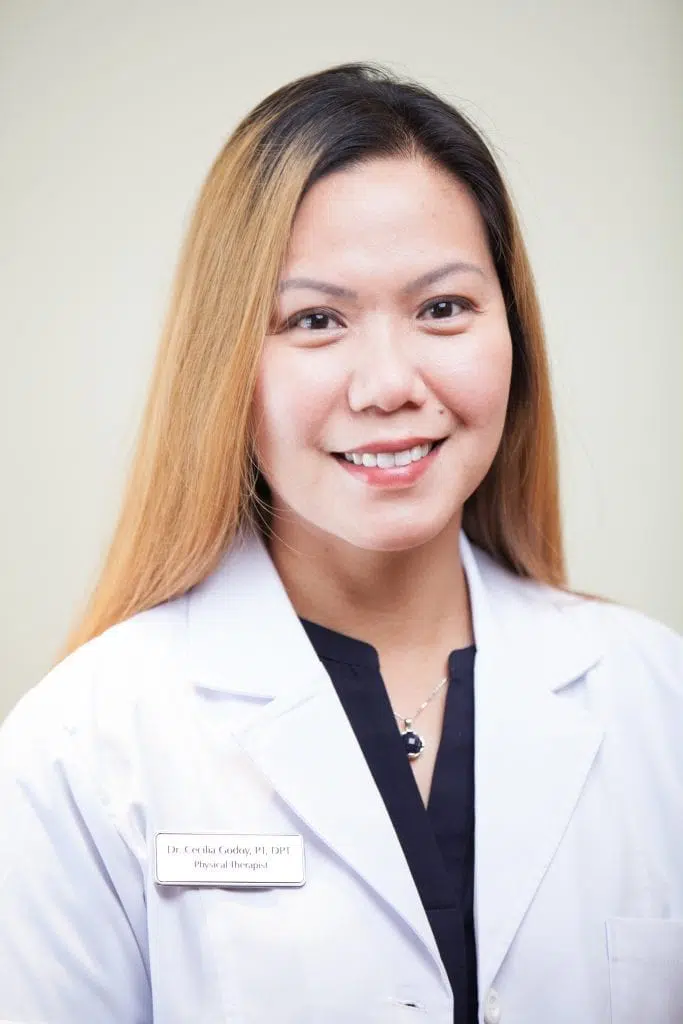 Cecilia Godoy-PT, DPT
Dr. Godoy, an established physical therapist in California since 2003, is a master clinician, an efficient director and a sought after therapist. Instrumental in ushering patients attain their goal— gaining better mobility and function—-by alleviating pain, increasing range of motion, building strength and endurance with emphasis on quality of movement and performance.
Upholding the mission of both her alma mater (Loma Linda University):
"To make man whole" and her company (Thera Touch Physical Therapy, Inc.)
"Love, Dedication, Service " she reflects the core values of a competent and caring healthcare professional. Focusing on an individualized program, she ministers to a variety of clients with a belief in service before self that exemplifies a work ethic of integrity and excellence.
"My purpose as a physical therapist is to serve when there's a need or call, with or without
financial gain." —-Dr. Godoy
"At times a simple sincere smile can penetrate deeper than a hot pack and a shoulder to lean on is better than a cane." —-Dr. Godoy