Knee pain is a common ailment that affects thousands of people in the US each year. There are several different structures in the knee, each of which can be damaged by several different causes. While some knee pain may resolve itself within a few days, you must seek medical attention to help diagnose the cause of your knee pain and recommend a treatment plan to relieve it. At our integrated chiropractic and wellness facilities, we offer drug-free pain management solutions that don't rely on the use of drugs. If you are experiencing knee pain due to inflammation, arthritis, or injury, read on to learn about alternative treatment options you can get to alleviate your joint pain.
Common Causes of Knee Pain
Some of the most common causes of knee pain include:
Trauma
Overuse
Sudden turning movements
Awkward landings from fall
Infection
Degeneration
Natural, Drug-Free Treatment Options for Knee Pain Relief
It's possible to alleviate knee pain without the use of pain medication. One way to help stop your knee pain is to call your local chiropractor.
A sports rehab chiropractic clinic often uses a variety of unique modalities to help manage ongoing joint pain and heal damaged tissues, including chiropractic care, massage therapy, corrective exercises, and physiotherapy.
At our 3 chiropractic South Bay locations, our integrated team of medical professionals offers a wide variety of treatments for healing knee injuries and managing pain including chiropractic care, massage therapy, strength training, spa facility use, pre and post-cryotherapy (aka "cold therapy"), strength training, decompression therapy, and full body stretch programs.
Physiotherapy & Strengthening Exercises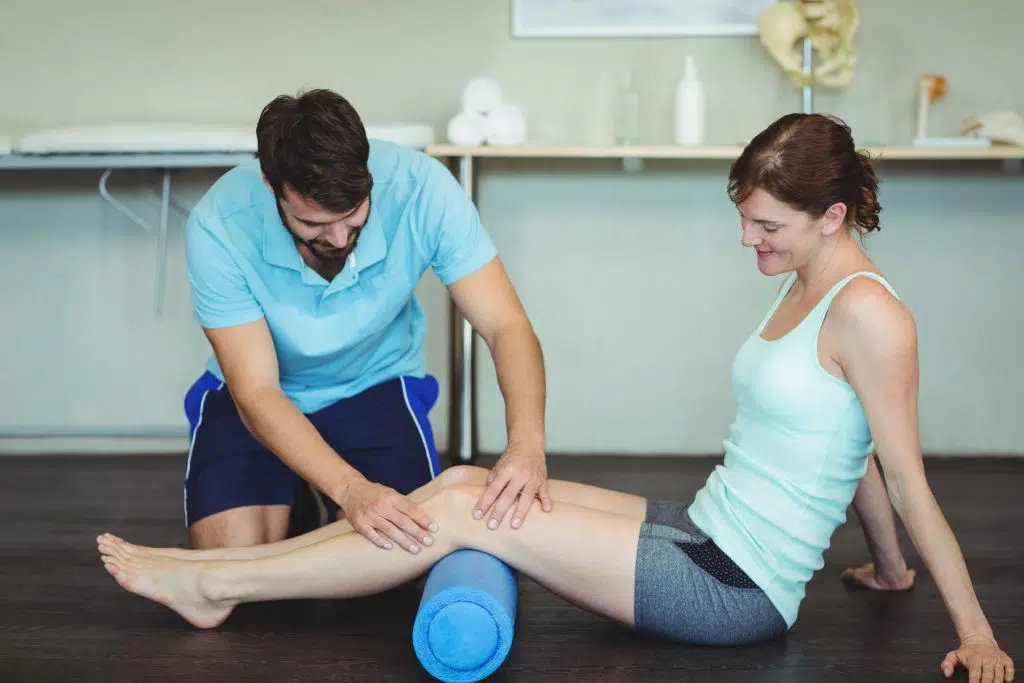 Knee pain that is caused by repetitive motion injuries or sudden injuries that have weakened the muscles around the knee often benefits from targeted exercises and stretches.
These exercises and stretches are designed to help strengthen injured and weak muscles so that they can better support the knee joint. In addition, exercise may help slow the progression of osteoarthritis, a common cause of knee pain.
Our physiotherapy team will create the most suitable exercises and programs tailored to the needs of our patients.
R.I.C.E for Sprains & Strains
Using the "RICE" (Rest, ice, compression, and elevation) therapy approach is good for knee pain caused by a minor injury or an arthritis flare. We start by giving your knee some rest, applying ice to reduce swelling, applying a cool pack that is known to reduce pain and swelling, and keeping your knee elevated to keep the joint from stiffening up.
Cryotherapy
Cryotherapy, which means "cold therapy," is a technique where the body is exposed to extremely cold temperatures for several minutes. One study found that whole-body cryotherapy significantly reduced pain in people with arthritis.
If you need knee pain treatment, schedule an appointment at one of our chiropractic clinics nearest you today. How has our integrated team of medical professionals helped you manage your knee pain?