Our Approach at South Bay Pain and Wellness
Our Torrance chiropractor, Dr. Mika Zaker, and the rest of our staff at South Bay Pain and Wellness welcome you and your family!
South Bay Pain and Wellness is our first location and where it all started. Our chiropractic office in Torrance is conveniently located in the Rolling Hills plaza on Crenshaw and Pacific Coast Highway minutes away from the city of Lomita and Palos Verdes. In this location, our patients experience an intimate and customized treatment plan to accommodate their specific injuries.
The South Bay Pain and Wellness Difference: What Makes Our Torrance, CA Location Unique?
Our Torrance chiropractors and wellness practitioners use a range of holistic and drug-free therapies—from chiropractic adjustments and spinal decompression to cryotherapy and advanced strengthening programs— to relieve discomfort and decrease pain.
Breaking Down Treatment: Our Approach
We practice holistic or "whole-person" health and wellness care. Whether you're suffering from chronic back, neck, or joint pain, or you've been told surgery is your only option, we can help.
Common Injuries and Conditions Treated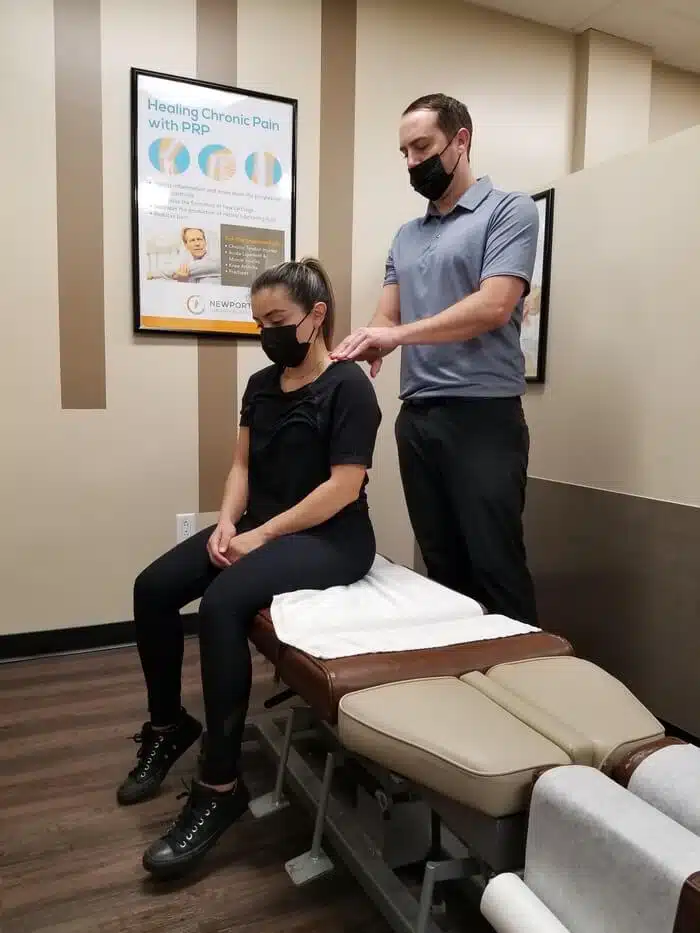 From our 3 locations, we provide treatment for a wealth of injuries and conditions - from athletic injuries like frozen shoulder to chronic conditions like arthritis, degenerative disc disease, and fibromyalgia. Below is a short overview of some of the most common conditions & injuries our Torrance chiropractors treat:
Lower back pain
Neck pain
Sciatica
Sports Injuries
Joint Pain
Shoulder Pain
Herniated Disc
Ankle, Elbow, and Leg Pain
Knee Pain
Pinched nerves and other nerve damage
Therapies & Treatments Used at Our Torrance Chiropractic Facility
Here at South Bay Pain and Wellness, our team utilizes a variety of therapies and treatment modalities to help treat pain and bring lasting relief to our patients. Following an integrative, multidisciplinary method of treatment, every means of therapy and care is tailored to the specific needs of each individual patient. Our holistic treatments rely on no medication or surgery. Some of the therapies and treatments we utilize include:
Chiropractic Care: From spinal adjustments to Manipulation Under Anesthesia (MUA), we use a variety of chiropractic techniques that can lead to patient pain relief.
Spinal Decompression Therapy: This spinal therapy makes use of a specialized raised table that allows the chiropractor to gently stretch the spine.
Cryotherapy: Cryotherapy is a treatment that involves treating injuries, specifically nerve damage, through temperature control. As the name suggests, those temperatures are often quite cold to dull nerve pain.
Massage Therapy: Massage therapy can be used to augment some of the above therapies or recommended on its own. Through masterful massage techniques, including sports massage, Swedish massage, and more, our skilled Massage Therapists will use their hands and other soothing aides to destress and ease tense muscles and tissue.
Physiotherapy, Personal Training, and Advanced Strength Training: These three treatments are recommended for patients at all levels of injury recovery. Through one-on-one care, it's possible to retrain muscles and build them back to previous strength and flexibility levels.
Lasting Pain Relief for Torrance, CA Through Chiropractic & Wellness Care
Book a chiropractic appointment at our Torrance location today! Let our Torrance chiropractors and staff walk with you on your personalized journey toward recovery.
We are always accepting new patients and take most insurance plans!
You can also visit one of our other chiropractic offices in Newport Beach or San Pedro nearest you!