An injury is unpleasant, painful, or downright agonizing when it occurs and in the weeks immediately following, while your body does most of the healing from critical injury. Injuries that don't heal all the way, however, can transform from acute to chronic afflictions that last months, years, or even decades.
The problem is, many people move on with life after that first critical healing period. Whether you're an athlete or not, it's tempting to go about business as usual. As soon as you can once more use the affected back, neck, or limb. This only heightens the chance of a short-term injury becoming something that lasts a lifetime. This is why it's so important to ensure your rehabilitation is done properly.
That's where Pilates comes in. One of the most effective forms of rehabilitation today, Pilates has a proven track record of helping even the biggest names in sports, from Kobe Bryant to Tiger Woods. It's time you put the benefits of Pilates to use for yourself as well.
First thought, what is it? Where did it come from? And what benefits exactly should you expect once you start a Pilates regimen? Let's take a look.
What Is Pilates for Injury Rehabilitation?
"Pilates is a form of low-impact exercise that aims to strengthen muscles while improving postural alignment and flexibility," says Self, explains that while the main goal of Pilates is to strengthen the core, it also tones and strengthens arms, legs, and neck, and even extremities.
"You can do Pilates with or without equipment," adds Self, "but no matter what, expect the moves to involve slow, precise movements and breath control."
When specifically geared toward a malady, Pilates for injury rehabilitation seeks to help the body strengthen and recover by using controlled, low-impact movements on various muscular systems.
A Brief History of Pilates-Based Physiotherapy
How did Pilates start, you're wondering? Is it some Golden Age Greek practice that's just today become popular, like yoga? Actually, no, although the exercise does stem from the ancient mind-body fusion of practices such as yoga, and does have an underpinning of Greek inspiration as well.
Pilates is a discipline created in the first half of the 20th century by a German immigrant to the United States. Inspired by ancient Olympians and based in New York, he began teaching ballerinas and other athletes his specialized blend of core conditioning, stretching, and strength training. His name? Joseph Hubertus Pilates.
Slowly, over time and as other people began to teach the art, it took on the name of its eponymous founder: Pilates. Today, Pilates-based physiotherapy is a standard response to injuries of all kinds.
Benefits of Pilates for Injury Therapy
Today, Pilates has entered the mainstream, but it's more than just a fad form of exercise. It's a true injury therapy that focuses on blending the mind, body, and spirit; learning control; realigning the body to its true form; and boosting health in every way. In that sense, it is well aligned with chiropractic care.
Among its many benefits are: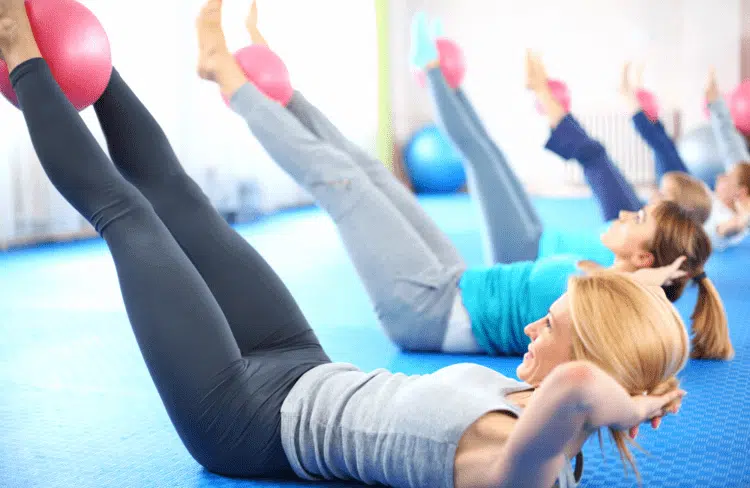 Focus on breathing, which not only increases your lung capacity and makes you healthier overall, it also sends oxygen and nutrients to the far reaches of your body to speed healing
Intentional progression of exercises, building upon one another to deliver ultimate strengthening without aggravating old injuries or creating new ones
Restoration of muscle balance through an equal focus on all areas of the body, progressing from core to limbs and more
Motion control, with exercises that range from motion-oriented to isometric poses that strengthen muscles and encourage focus
Emphasis on balance through stationary poses on the floor, while standing, or during core exercises, which decreases the chances of getting an injury later due to a lapse in balance and helps you protect injured parts of the body now
Increased kinesthetic sense, helping you to know where all your body parts are at all times
Much like the exercises themselves, these benefits build upon one another to protect your health overall. Healthier tissues, stronger muscles, and more robust lungs all mean you can exercise more and move your body more effectively, which encourages even greater development of healthy bodily systems.
Come See a Seasoned Pilates Chiropractor in South Bay or Orange County
Ready for a quality Pilates chiropractor to show you the ropes and help you retake your ideal health? Let Zaker Chiropractic help. With three locations serving South Bay & Orange County, we offer convenient classes that fit your schedule and don't require tons of driving. Our locations include:
For more answers about how we can help you relieve pain without drugs or surgery, make an appointment with Zaker Chiropractic. Our chiropractors provide a wide variety of services to diagnose and treat your condition. Zaker Chiropractic has several locations to serve you. Call (949) 734-4454 for an appointment with Newport Beach Pain & Wellness in Newport Beach, (424) 235-1562 for South Bay Pain & Wellness in Torrance, or (310) 831-0003 for an appointment with San Pedro Pain & Wellness in San Pedro. Each clinic offers a multidisciplinary list of services.