If you are experiencing intermittent or chronic low, mid, or upper back pain, our chiropractors at Zaker Chiropractic may be able to help. With locations in San Pedro, Torrance, and Newport Beach, our staff works hard to facilitate optimal symptom resolution and recovery for patients with upper, middle, and lower back pain.
After comprehensive examinations and evaluations, we implement individualized plans of care which focus on holistic, non-surgical, and drug-free treatments. Learn what might be causing your lower, upper, and middle back pain and an array of natural, non-surgical treatment options available to alleviate it from our chiropractors at Zaker Chiropractic.
What Causes Lower Back Pain?
According to estimates from the World Health Organization lower back pain is considered one of the top 10 causes of disability worldwide and has a lifetime prevalence of up to 70%. In other words, 7 out of 10 people you know will struggle with this condition at least once.
Lower back pain is often associated with tender and painful muscle spasms, spinal stiffness, core weakness, and shoulder and/or hip flexibility. Because the spinal column is one nuanced unit of musculoskeletal and neurological tissue, a problem in one area can easily lead to symptoms and dysfunction in other areas. For instance, back pain may also lead to additional symptoms such as numbness, tingling, pain in an arm or leg, or headaches and jaw pain, depending on the nature of the specific condition.
Spinal stenosis: progressive narrowing of the canal through which the spinal cord travels
Osteoarthritis: inflammation of vertebral joints, generally due to age-related overuse and "wear and tear" of joint cartilage lining
Degenerative disc disease: progressive degradation of spinal discs, leading to narrowed joint spaces, pain, and stiffness
Herniated disc/bulging disc: a disc injury caused by tearing of the outer disc layer and subsequent leakage of the inner gel-like fluid (herniation) or simply a protrusion of the disc out of its normal alignment without actual rupture of the disc (bulge); this can compress nearby spinal nerve roots and
Muscle strains and ligament sprains: acute or chronic stress can damage ligaments and muscle fibers, leading to inflammation and pain
We know that lower back pain is an extremely common phenomenon—as mentioned, most people will have at least one episode throughout their lifetime. Unfortunately, a prior history of back pain is in itself a risk factor for future and recurring dysfunction. Other risk factors for lower back pain include: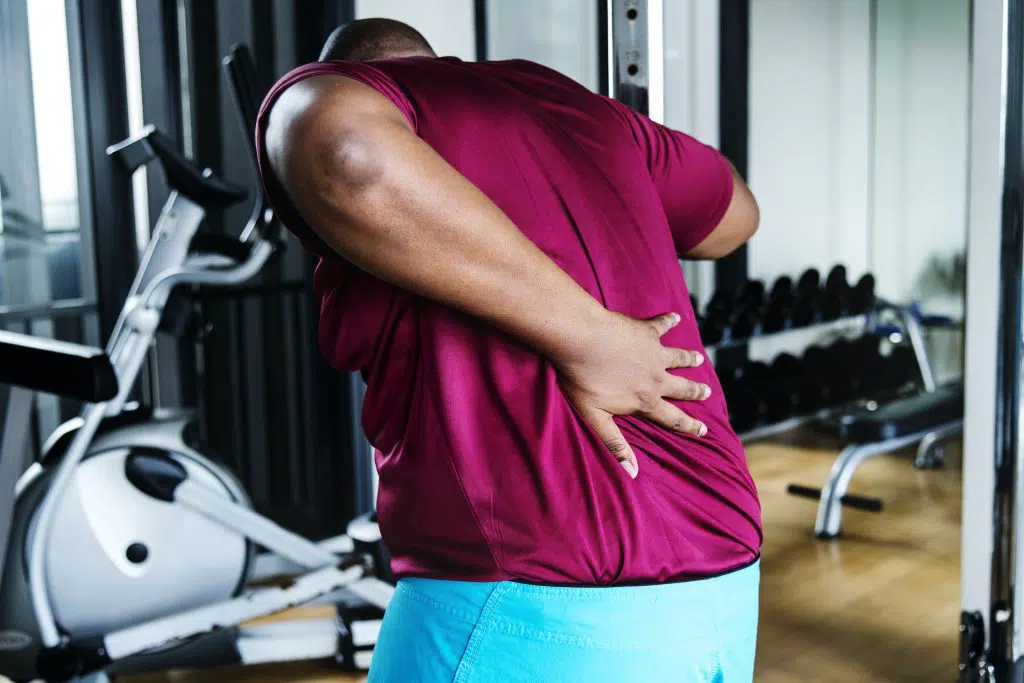 Obesity
Advancing age
Physically demanding jobs or hobbies which involve a lot of heavy lifting, repetitive movement, and frequent bending or twisting
Sitting too much (true even if you exercise regularly!)
Smoking
Psychological stress
Poor posture, body mechanics, and ergonomics
Acute injuries (e.g., auto accident, personal injury, or sports injury)
Nerve pain occurs at the point where the nerve is pinched. Tingling occurs because pinching a nerve disrupts the nerve's communication with the brain. Numbness may start as tingling and then turn into widespread numbness.
These may be signs of a serious problem that needs immediate medical attention. A pinched nerve can deteriorate, which means that an untreated pinched nerve can cause worsening signs and symptoms or symptoms that persist for a long time.
Common Causes of Upper and Mid Back Pain
Upper and mid-back pain occurs along the thoracic vertebrae, which are the vertebrae that reside along your ribcage. While these vertebrae move less than the vertebrae in your beck or lower back, they are still susceptible to injury and overuse.
Our back pain doctor can diagnose the causes of your upper and mid back pain and recommend the appropriate non-invasive treatment options. Common causes that we treat include:
Overuse, muscle strain, or injury to the muscles, ligaments, and discs
Poor Posture
Fractures
Osteoarthritis
Sports Injuries and Overuse
Sports Injuries and Overuse
If you work a manual labor job or participate in a lot of physical activities, including gardening, lifting weights, or regularly lifting heavy objects, you may experience upper and mid back pain due to overuse or sports-related injury. This type of injury typically occurs due to sprains or strains of the muscles or ligaments and inflammation or bruising of the soft tissues.
Poor Posture
Upper and mid back pain is becoming more common across all age brackets due to the prevalence of texting, spending long hours in front of a computer screen, and maintaining improper posture for extended periods while sitting or standing.
Poor posture, like slouching or rounding your shoulders while using your cell phone or working on a computer can lead to mid and upper back pain. You may even experience neck pain and stiffness in your upper back.
Car Accidents
Car accidents are notorious for causing upper back and neck pain. This can be due to a severe sprain or strain of the neck or upper back, severe whiplash, or a herniated disc.
Fractures of the Vertebrae
In some instances, you may experience a small fracture or crack in your vertebrae that is causing you pain. Common causes of slight fractures include overuse, joint deterioration, and traumatic injuries, like falling or a car accident. If your primary doctor has deemed the fracture to be healed, but you are still experiencing back pain, our chiropractors in South Bay, San Pedro, and Newport Beach, CA may be able to help reduce your pain and improve the mobility of your spine.
Osteoarthritis
Osteoarthritis is a progressive condition that causes the cartilage of the joints to deteriorate. When this occurs in the upper back, it can lead to pain, stiffness, and a loss of range of motion along with inflammation around the spinal joint.
Natural Treatment for Lower, Upper, and Middle Back Pain From Our South Bay and OC Chiropractors
Individuals experiencing back pain can take advantage of a variety of natural, non-invasive treatment options to alleviate their lower, upper, and/or mid back pain, including:
Chiropractic adjustments (to realign spinal joints and provide hormone-mediated natural pain relief)
Non-invasive decompression therapy (to decrease pressure on injured nerves and discs)
Physiotherapy (to improve the strength and stability of the spine)
Massage therapy (to promote increased blood flow, relieve adhesions, break up scar tissue, and speed healing)
Cryotherapy (to stave off inflammation and relieve pain)
Sports Rehabilitation & Personal Training
At Zaker Chiropractic, we diagnose and treat upper and mid back pain for South Bay individuals in Torrance and San Pedro, CA, and Orange County in Newport Beach, CA. Our chiropractors personalize every upper back pain treatment program according to the patient's specific health needs and goals. Dr. Misa Zaker is one of South Bay and Orange County's respected chiropractors. Over the years, he and the rest of the team have helped hundreds of Californians get lasting relief from their pain without having to rely on harmful medications or invasive procedures.
If your upper back pain is being caused by poor posture, for example, our chiropractor may recommend chiropractic adjustments and cryotherapy to help increase the range of motion of the joint and reduce inflammation in the surrounding soft tissues.
Once your pain has lessened, we may then recommend sports rehabilitation, strength training, and/or personal trainer to increase the strength of your core muscles. Once your injury has healed, our upper back pain doctor can design a maintenance plan to help reduce the likelihood of future back pain and injuries.
Do you live in the South Bay and Orange County area and are currently experiencing frustrating lower back pain? Contact one of our offices today to schedule an appointment with our chiropractic physician.
South Bay Pain & Wellness - Torrance: 424-235-1562
San Pedro Pain & Wellness - San Pedro: 310-831-0003 (Ext 1)
Newport Beach Pain & Wellness - Newport Beach: 949-734-4454
To schedule an appointment at one of our three locations in California, please call us today or schedule an appointment via our online form.