The team here at Zaker Chiropractic of South Bay and Orange County wants you to discover the best practice and benefits of decompression therapy. So many patients gain amazing health benefits from this type of treatment. With decompression therapy as a preventative measure, you can also improve spinal alignment and reduce back pain. See what else spinal decompression therapy can do for your health and wellness at your local chiropractor in CA.
What is Spinal Decompression
Spinal decompression therapy is a treatment that we provide for patients at Zaker Chiropractic. This is a modality of noninvasive therapy dedicated to reducing pain and conditions in the spine. Spinal nerve disorders can be quite painful if left untreated. In addition, you can develop more disabling issues like paralysis, incontinence, and bone spurs.
We offer spinal decompression therapy as a way to treat spinal nerve conditions so you can avoid chronic back pain and long-term issues. This also helps you to avoid spinal decompression surgery, which is invasive and involves removing tissue and bones through surgical methods.
Benefits of Decompression Therapy
When you opt for decompression therapy, the primary benefit is improved spinal nerve functioning. The nerves in the spine keep you active, mobile, and free of injury and pain. If you have pinched nerves in the spine, this can greatly reduce your ability to move your muscles and limbs. Therefore, decompression therapy helps you improve your well-being by ensuring the spine and spinal nerves are free of unintended pressure.
Plus, when you go to the chiropractor for decompression therapy, you can prevent back problems related to spinal health. This adds to your preventative healthcare and reduces the chance you will injure your spine or back in the future. You can complete decompression therapy without any anesthesia, but you may also opt for local anesthesia to help reduce pain when in treatment.
As a result, you can return to work or school without having any downtime after spinal decompression therapy. This is a great relief for patients who want a quick and effective solution for back pain.
Who Needs Decompression Treatments
If you suffer from numbness in the arms or legs or lower back pain, you may know the benefits of decompression therapy. Individuals diagnosed with chronic illnesses, including the following, can also use decompression:
Herniated disc
Spinal stenosis
Facet syndrome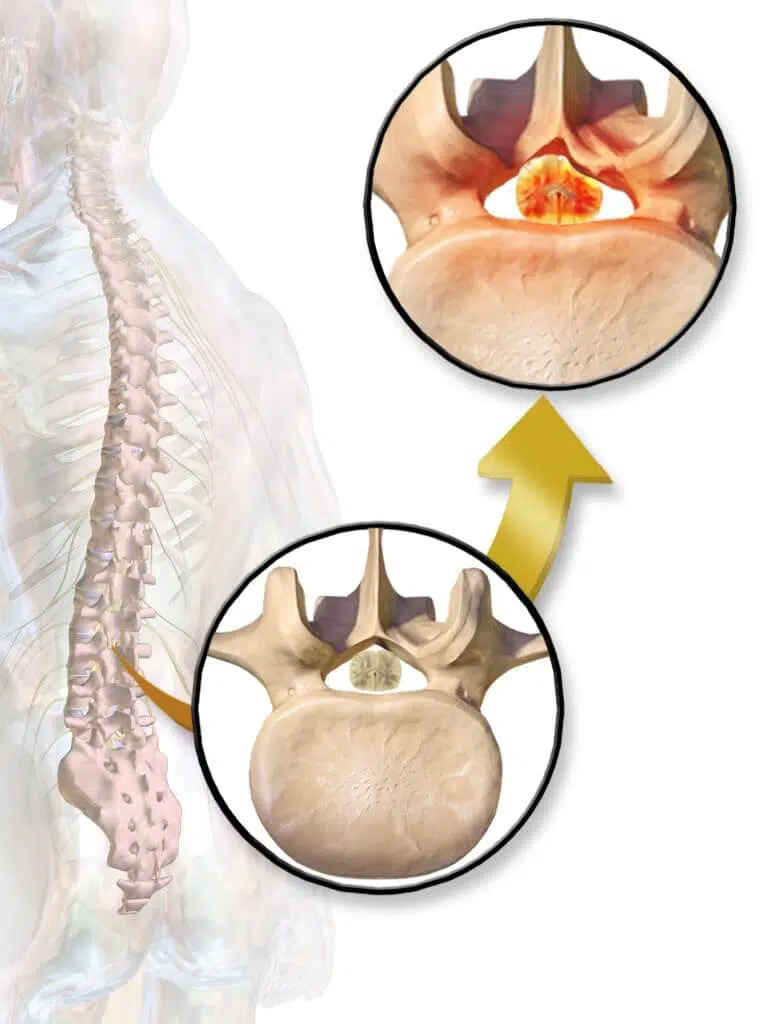 Decompression treatments are ideal for improving overall spine health. This motorized traction therapy slows retracts and repositions the spinal vertebrae as needed for proper alignment. Using decompression treatment also allows our Orange County chiropractor to treat lower back pain.
For instance, let's say your lower back is injured due to spinal nerve pressure along the spine. You can use spinal decompression therapy to open up the spinal column and alleviate the pressure without surgery or drugs. This non-invasive treatment is ideally suited for those patients including:
Children and teenagers who are still growing and developing along the spine but suffer childhood spine conditions like scoliosis
Sports players and athletes hoping to improve spinal health and strength
Elderly patients who are medically comprised with a low immune system
Active adults wanting to treat chronic pain without painkillers or downtime
If this sounds like you, then we have the treatment you need right in your community. Whether you have been to a chiropractor before or this is your first visit, we hope to make your upcoming visit to our office a pleasant one.
Get Started With Decompression Therapy in Orange County
To move forward with decompression therapy in Orange County, CA, you will want to visit our chiropractor. It might be helpful if you book an appointment or call our office at 949-446-1172 to speak with someone at Zaker Chiropractic today. We utilize the latest modalities and tools in decompression therapy including manipulation under anesthesia.
You can also schedule chiropractic adjustments and massages at one of our three locations, including: