Experience the Zaker Chiropractic Difference in Irvine, CA
Located across the street from John Wayne Airport and near the University of California (UC Irvine), our Newport Beach Pain & Wellness office can help you heal from your injuries and improve your overall health and wellness with chiropractic care. Chiropractic uses non-invasive and natural treatments to promote wellness. To help you get timely treatment for your neck and back pain, we offer convenient appointment times, including during lunch and in the evenings. We're even open on Saturday.
Back and Neck Pain Relief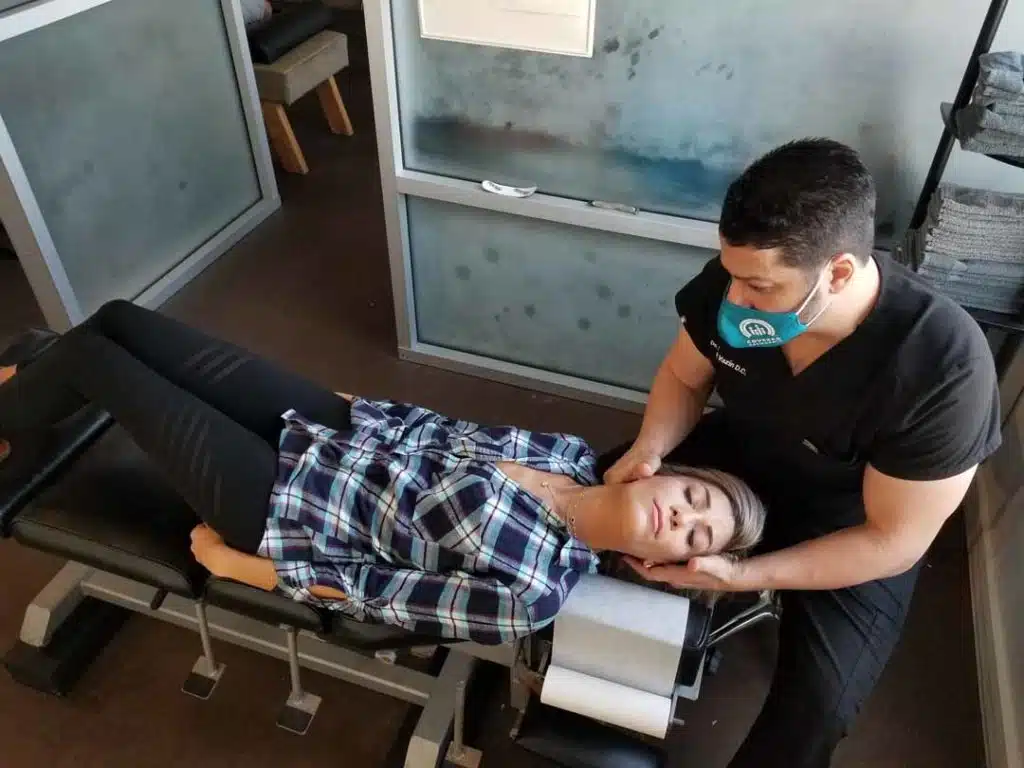 Many individuals who walk through our Newport Beach Pain & Wellness office in Newport Beach are seeking relief from back and neck pain that doesn't involve surgery. Most patients are looking for a treatment that avoids taking powerful prescription pain medications that come with unwanted side effects. A few of our treatment options for back and neck injuries include chiropractic adjustments, massage therapy, cryotherapy, decompression therapy, and physiotherapy. These chiropractic treatments help improve the function of the spine, reduce pain and inflammation, and help you build strength in your back muscles, which naturally helps with pain relief. These treatments may also help you avoid back surgery and reduce your reliance on OTC and prescription pain medications and anti-inflammatories.
Chiropractic Treatment Options Offered by Our Irvine Chiropractor
In addition to helping you find neck and back pain relief, our Irvine chiropractor also offers treatments for sports injuries, repetitive motion injuries, auto accident injuries, herniated discs, joint pain, sciatica, pinched nerves, shoulder pain, and knee pain. When we design a treatment program for any of these musculoskeletal injuries, we always consider the entire body. This is part of our integrated approach to natural chiropractic care. This means that our chiropractors not only strive to heal your injuries but also strive to improve your overall health and wellness so that you can lead an active, healthy lifestyle at any age. Our treatment options can be combined to form personalized, comprehensive pain relief and health and wellness programs.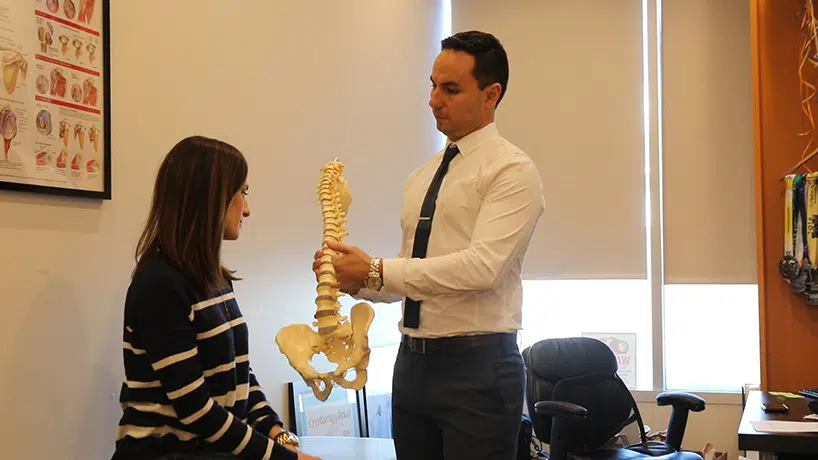 Chiropractic Care – Maximizes range of motion for spinal and extremity joints. Helps relieve extremity joint, back, and neck pain from chronic and acute injuries and conditions.
Massage Therapy – Helps reduce muscle pain, lowers inflammation, and improves circulation to the soft tissues. It also makes chiropractic adjustments more comfortable and longer-lasting.
Decompression Therapy – Increases the spaces around the discs to help with the healing of herniated discs and pinched nerves.
Cryotherapy – Helps reduce pain and inflammation after an auto accident injury, sports injury, or repetitive motion injury.
Physiotherapy – Helps injuries heal and reduce pain through targeted exercises and stretches.
Personal Training – Helps improve overall strength and flexibility in the muscles. Our trainers develop workout programs to help you improve your muscle strength, endurance, and flexibility.
Advanced Strengthening – Further helps improve your muscle strength with personalized strength training workouts so that you can meet all of your fitness goals.
Pilates – Great for correcting posture problems. These are low-impact workouts that help you improve the strength and flexibility of your legs, arms, back, and abs.
Scheduling Your Chiropractic Care Appointment With Our Chiropractor in Irvine
When you need chiropractic care in Irvine, you can count on our chiropractor in Irvine to schedule your appointment at the most convenient time for you, even during lunch and in the evening. When you arrive for your appointment, our chiropractor will perform a complete evaluation so that the exact causes of your neck, back, and extremity pain can be diagnosed.
Once our chiropractor has the results, you will receive a complete report of the findings, and a customized treatment program will be developed to help you find pain relief while healing your injuries and improving your mobility. As you move through our comprehensive treatment programs, our chiropractor evaluates your progress and adjusts your treatment so that you can achieve all your health and wellness goals.
To learn more about our chiropractic services in Irvine, Newport Beach, Torrance, and San Pedro, CA. To schedule an appointment with one of our chiropractors, give us a call today or book an appointment online. Zaker Chiropractic has several locations to serve you. Call (949) 734-4454 for an appointment with Newport Beach Pain & Wellness in Newport Beach, (424) 235-1562 for South Bay Pain & Wellness in Torrance, or (310) 831-0003 for an appointment with San Pedro Pain & Wellness in San Pedro. Each clinic offers a multidisciplinary list of services near you in Irvine